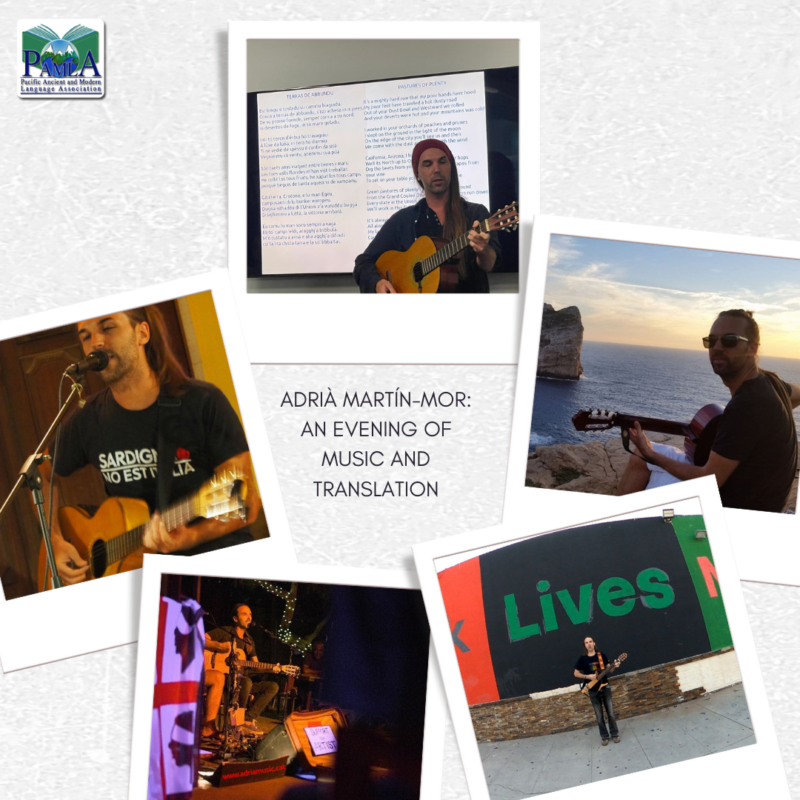 PAMLA 2023 is proud to announce our Welcome Event entitled "Adrià Martín-Mor: An Evening of Music and Translation" at the Hilton Portland Downtown, Wednesday, October 25, 7-8:30 pm!! All are welcome for this free event, which will also be serving light snacks.
This hybrid academic/artistic special event features musician, translator, and professor Adrià Martín-Mor, as he explores, with the help of guitar, song, and storytelling, the translation of songs by singer-songwriters from different regions, with a particular focus on musical translations into minoritized languages such as Catalan and Sardinian. During the event, renditions of selected songs will be accompanied by concise introductions, providing context and information about the original authors. The discussion will revolve around the intricacies of translation, examining the challenges and considerations involved in conveying the essence of these songs in different languages. Additionally, translated versions of the songs will be showcased, along with insights from the presenter regarding their translation process.
Our welcome event aims to illuminate the intersection between music, politics, and translation. By celebrating the richness and resilience of minoritized languages, it will explore how music becomes a medium for socio-political expression, bridging linguistic barriers and fostering cross-cultural understanding. Through an academic lens, it will delve into the complexities of translating lyrical content, considering linguistic and cultural particularities.
Adrià Martín-Mor is a professor of Translation Studies at California State University Long Beach. He has directed translation technology programs in Europe, and his current research interests encompass minoritized languages, translation technologies, and the political dimension of translation. He is a founding member of Sardware, a Sardinian association of activist localizers. As a literary translator, he has published Sardinian author Sergio Atzeni in Catalan. As a musician, he wrote and composed the soundtrack of "Beni cun me" ('come with me'), in Catalan and Sardinian, and released it as his latest album, Lo somrís de la magrana ('the smile of the pomegranate,' in Algherese Catalan).
You can make a reservation at pamla.ballastacademic.com by clicking on Registration, to help us to estimate how many will be there for the event. If you have any questions about the event, please email PAMLA Executive Director Craig Svonkin: [email protected].