In the recent years, PAMLA's News page has grown to be an important source of information and announcements for our members and community at large. We want to make our news more interactive and engaging with our community, so that means we need feedback and stories from you! If any PAMLA member is interested in sharing some news, do please reach out to Executive Director Craig Svonkin ([email protected]) or Assistant Director David John Boyd ([email protected]).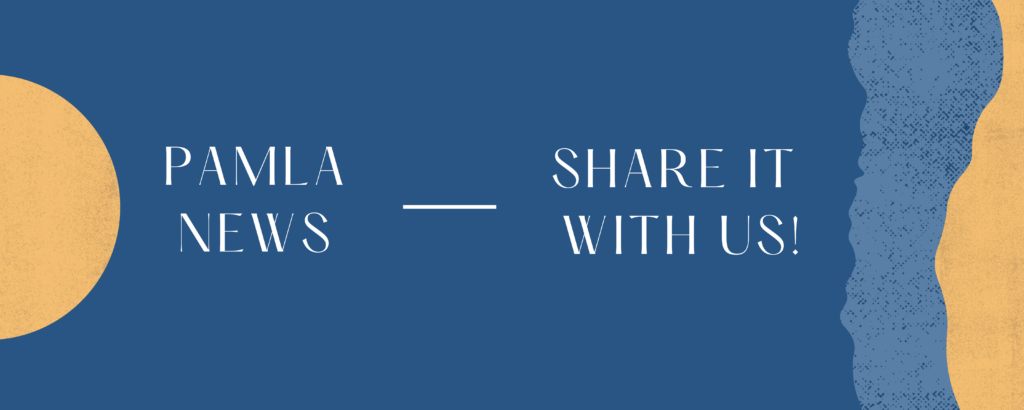 Advocacy & Resolutions
Our Advocacy & Resolutions section includes statements from our organization that highlight our professional and ethical commitments. We are continually looking to expand our reach into other public communities, ranging from K-12 educators to street artists. Please do reach out to us if there are any community advocacy or organizational resolutions that you would like us to consider.
Conference
Our Conference section includes posts concerning all annual conference information, including: current deadlines, calls for papers, scholarships, special events, travel and accommodations guidelines, and general conference announcements. This is our most active section, but if there are conference items that you feel we have not addressed, feel free to suggest anything to us.

Community
Our Community section includes posts regarding personal and professional announcements, including: thank-yous for service, messages of congratulations, and in memoriams. We are proud of all the achievements of our members, so if there are other announcements you would like to share (a new publication or book, promotion, job posting, retirement, etc.), do let us know.

News & Events
Our News & Events section navigates members through the many announcements surrounding our organization, including posts about our publication, Pacific Coast Philology, organizational governance (elections, updates to the constitution, etc.), annual letters from the Executive Director and President, fundraising information, PAMLevents, and more from our PAMLA Arts Matter companion website.