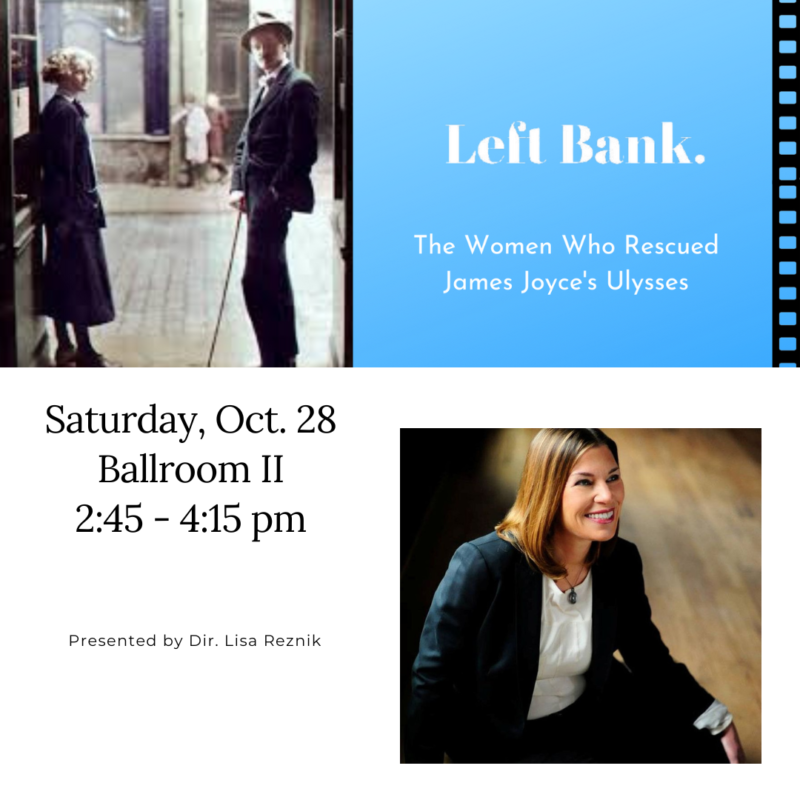 Please join us for a screening of Lisa Reznik's documentary, followed by a discussion with Reznik, the film's writer/director (Saturday, Oct. 28, 2:45 – 4:15 pm). Left Bank: The Women Who Rescued James Joyce's Ulysses investigates the largely unacknowledged role of pioneering women who helped shape and publish James Joyce's brilliant, erotic, comic, difficult, ground-breaking text.
Lisa Reznik has directed four award-winning films, which have been selected by 30+ film festivals and private screenings. Left Bank marks Reznik's fifth film, and first hybrid-documentary. The passion project is the culmination of more than a decade's worth of detailed research. 
In Left Bank: The Women Who Rescued James Joyce's Ulysses, Reznik reveals important new insights and facts about Joyce's life, and specifically the women who empowered his work. The film also incorporates excerpts from Left Bank Bookseller, her earlier dramatic short film about Joyce and the courageous publisher of Ulysses, Sylvia Beach.
With the year 2022 being the 100th anniversary of the publication of Ulysses, arguably the most important book ever written, Reznik was inspired to take her work even farther, and direct a feature film surrounding the challenges to publish James Joyce's groundbreaking novel, shining a much needed light on the unrecognized risk-taking female pioneers who brought his work to the public.
The event is free, and while not mandatory, you can make a reservation at pamla.ballastacademic.com by clicking on Registration to help us to estimate how many will be there for the event. If you have any questions about the event, please email PAMLA Executive Director Craig Svonkin: [email protected].