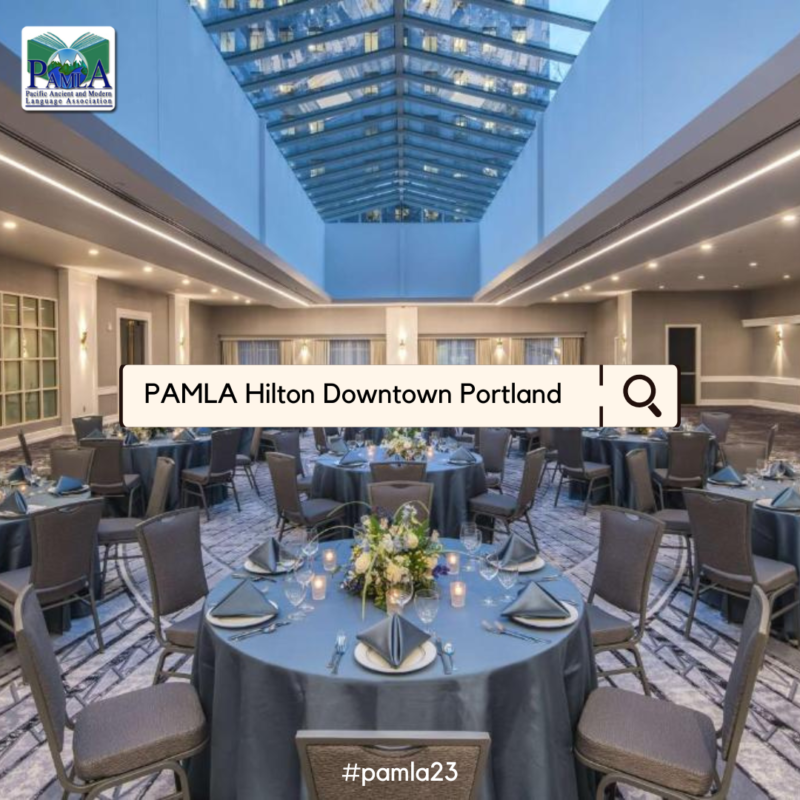 The 2023 PAMLA Conference is being held at the lovely 3.5-star Hilton Portland Downtown hotel, in the heart of downtown Portland, and a very brief walk to the green, yellow, red, and blue MAX light rail lines. The Hilton Portland Downtown is less than one block from the Arlene Schnitzer Concert Hall and Pioneer Courthouse Square. Additionally, Pioneer Place Mall, the Portland Art Museum, the Newmark Theatre, the Oregon Historical Society, restaurants and bars, and several parks are within a few blocks. The hotel has the HopCity Tavern (open for all meals), a grab-and-go market, all our conference space, and a 24-hr fitness center.

To find out more or make your reservation at the special PAMLA rate, go here: https://www.pamla.org/pamla-2023-accommodations/
Or go straight to PAMLA's Hilton reservation portal: https://book.passkey.com/go/PAMLA23
There are plenty of hotel rooms at the Hilton Portland Downtown for us right now, so if you face any problems getting them (or adding nights, for example), don't panic. Just email Craig Svonkin: [email protected].