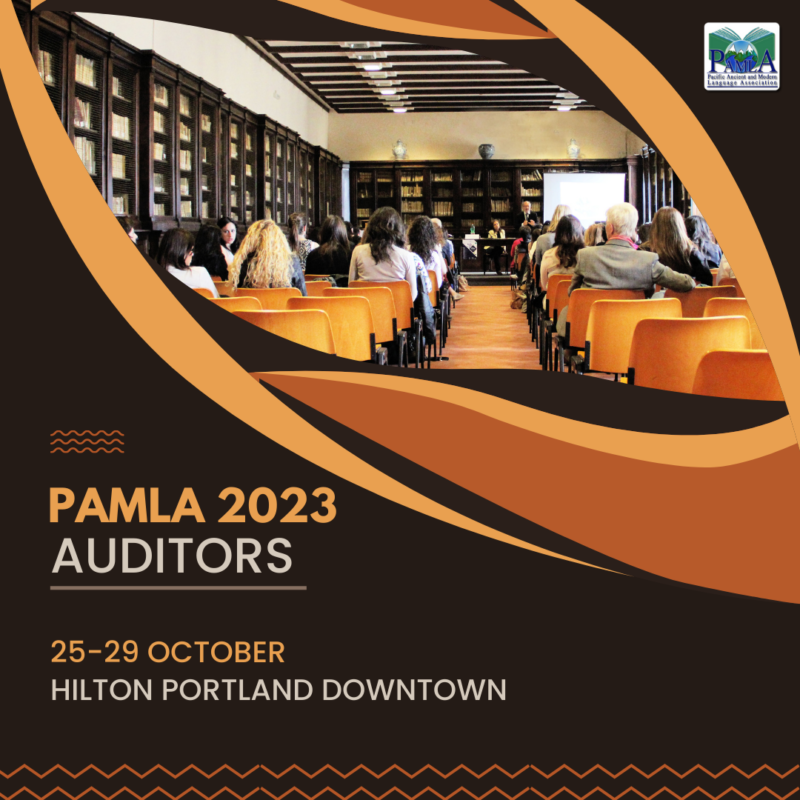 Friends of PAMLA, welcome to our conference! If you'd like to attend our intellectual retreat where there will be much discussion of literature, media, and languages as well as writers' talks, poetry readings, film screenings, and more, we invite you to join us October 25-29 at the Hilton Portland Downtown in Portland, Oregon for a nominal auditor fee. Come to PAMLA 2023 and enjoy our fun, intellectually stimulating conference in the heart of Portland, an exciting city filled with amazing bookstores, restaurants, bars, museums, and parks.
In addition to all of the exciting new work in literature, media, and language studies, highlights of the conference will include a plenary address by Jorge Luis Borges scholar Daniel Balderston, a keynote address by poet and poetry scholar Stephanie Burt, author talks and interviews with writers, poetry readings by luminaries including Rae Armantrout, new films including a documentary on the women who supported publication of James Joyce's Ulysses and the film Murer: Anatomy of a Trial about the trial of Nazi war criminal Franz Murer, a tour of the Portland Japanese Garden, and much more. This is a true feast of ideas and conversation! All of these events are available to auditors. Conference auditors gain access to all conference events, including the fabulous PAMLA reception, the PAMLA Documentary Shorts Film Festival, and discounted entrance to the Portland Art Museum. You can view the full schedule of talks, events, and films here.
Auditors may include anyone who is not presenting work or leading a panel at the conference, whether you are generally curious or the guest of a presenter. To register and pay the nominal auditor fee, visit our conference portal here, create a user account, and select the Auditor option in the drop-down registration menu.
If you are a current student or faculty at the University of Portland, Portland State University, Reed College, Willamette University, or the University of Washington and are not on the conference program (not presenting or chairing), you don't need to pay a dime. You may attend the PAMLA conference for free – simply email Executive Director Craig Svonkin at [email protected] with your request and affiliation. This opportunity is made possible through generous donations from the University of Washington Humanities Division, University of Portland College of Arts and Sciences, Portland State University, Reed College, Willamette University, and Imbrifex Books. Thank you to our generous supporters.
You can still make your hotel reservation at the Hilton Portland Downtown, the site of our PAMLA 2023 conference, at a special PAMLA rate, by going to this page and following the link there.
Please direct any questions you may have to Executive Director Craig Svonkin at [email protected]. We look forward to seeing you at PAMLA 2023!