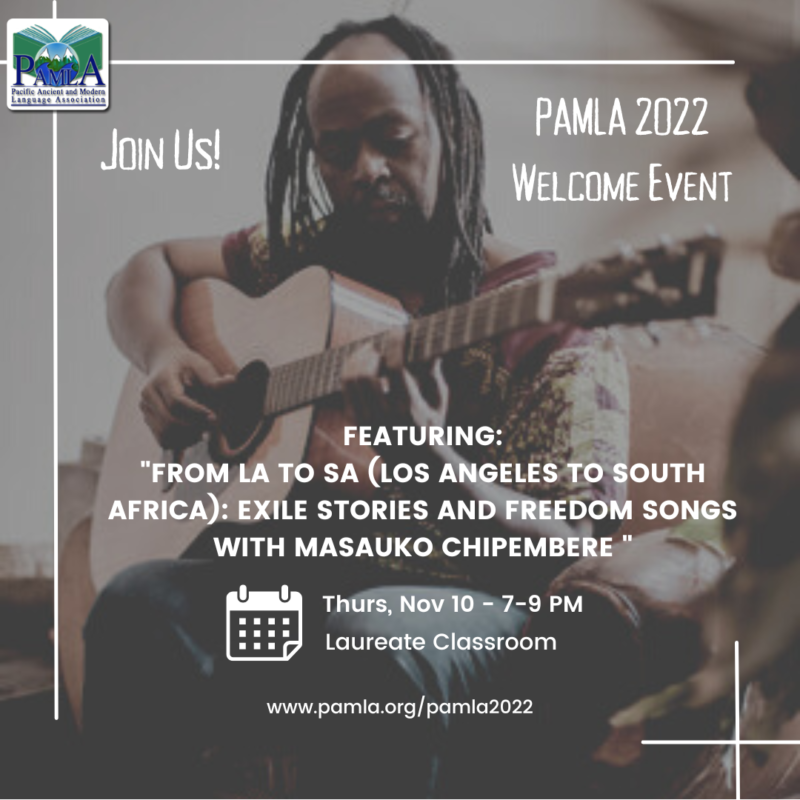 PAMLA 2022 is proud to announce our Welcome Event speaker for Thursday, November 10, in the Laureate Classroom in the UCLA Luskin Conference Center: Masauko Chipembere. In his presentation, "From Los Angeles to South Africa: Exile Stories and Freedom Songs," Masauko uses music to connect with his ancestral traditions from Malawi while expanding on them with aspects of hip hop, beat poetry, and jazz. He will be opening the PAMLA conference with an autobiographical performance utilizing live music, video, and narrative.

Masauko Chipembere is a Malawian-American singer/songwriter, born in Los Angeles while his parents were in political exile. His primary instruments are the acoustic guitar and the voice. Masauko's sound is a unique mixture of Southern African traditional music with jazz, folk, funk, hip hop, and reggae. His performances have a call and response energy that harkens back to his family roots in the villages of Malawi, while his hip hop freestyle is grounded in his days in Los Angeles.
Masauko was invited to be a Nelson Mandela 46664 ambassador after his performance with his duo BlkSonshine at the 46664 concert in George, South Africa in 2005, where he shared the stage with Queen, India Arie, and Annie Lennox. At that event Nelson Mandela said, "We are here to say that justice will not be achieved until every woman is in full control of her own life, and that control is practically implemented via her human rights…. We hold the future of this continent in our hands. Let us use the universal language of music to sing out our message around the world." Mandela's message galvanized Masauko to become more supportive of the work his mother, Catherine Chipembere, was doing through her NGO, WIN Malawi, which educates women and orphans. Since then he has intensified mixing music with activism in support of building schools, installing solar energy, and learning/teaching permaculture in Malawi. He travels back and forth to Malawi collecting donations from the USA to support human rights projects in Malawi. His music envisions a world of equality beyond sexism, racism, and other forms of discrimination through the language of song.
In our Welcome Event, Masauko will share how the ability to move through various cultures from Los Angeles to New York, Malawi, Costa Rica, and South Africa has broadened his music, further illustrating how his unique experiences have helped him to create a syncretic sound that resonates with folks around the world.