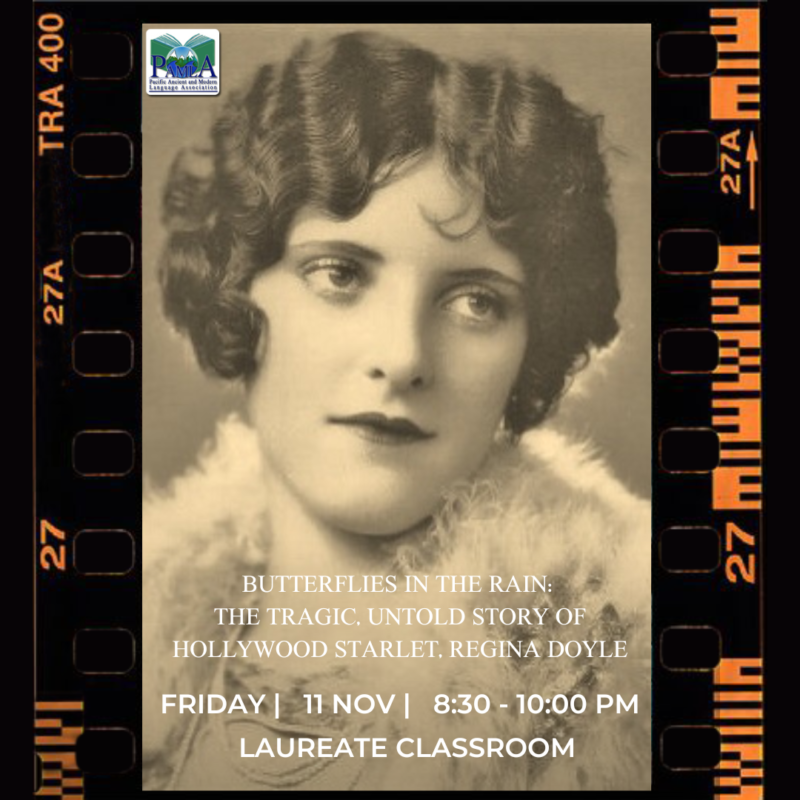 Please join us for one of PAMLA's marquee conference events: "Butterflies in the Rain: The Tragic, Untold Story of Hollywood Starlet, Regina Doyle." This special event will take place on Friday, November 11, from 8:30 – 10:00 PM, in the Laureate Classroom at the UCLA Luskin Conference Center! See footage from and meet the makers of the documentary, Butterflies in the Rain, which showcases the untold life and career of silent Hollywood film starlet, Regina Doyle. Doyle's grandsons, Stephen Gilbert Brown (University of Nevada, Las Vegas) and David Gregory Brown, producers and writers for the film, will speak about their grandmother and the making of the documentary. As the Stephen and David Brown will illustrate in their presentation, the inspiration and goal of Butterflies in the Rain: The Tragic, Untold Story of Silent-film Starlet, Regina Doyle is to raise the curtain of forgetfulness on the life, art, and tragic glamour of a long forgotten Hollywood starlet—and in the process trace her ancestral roots to 19th century Chicago and Ireland, across four centuries and eight generations. The story is told with a montage of dramatic readings, studio stills, family photographs, newspaper clippings, video, live voice-over narrative, and film. It opens with the four minute "Tizzle" (trailer) from the documentary film of Regina Doyle's life (in progress) by way of providing a dramatic overview of Regina's story and introducing its two story-tellers, her grandsons, Stephen and David.

This event is free and open to the public. Invite your friends!
Nature photographer and professor of English at UNLV, Stephen Gilbert Brown received the W. Ross Winterod National Book Award for Words in the Wilderness. In 2007 he received the prestigious Barrick Scholar Award. His books include The Gardens of Desire: Marcel Proust and the Fugitive Sublime (SUNY 2004), Plato and Freire: Ancient Rhetoric/ Radical Praxis (Routledge 2011), and Hemingway, Trauma, and Masculinity (Palgrave-Macmillan 2019).
Snow skier and National Accounts Executive, David Gregory Brown, received the Distinguished Sales Specialist Award in 2010. He has also received the Presidents Club and Regional Manager Awards. Brown is very passionate and committed to producing and telling the Regina Doyle story from her grandsons' point of view.