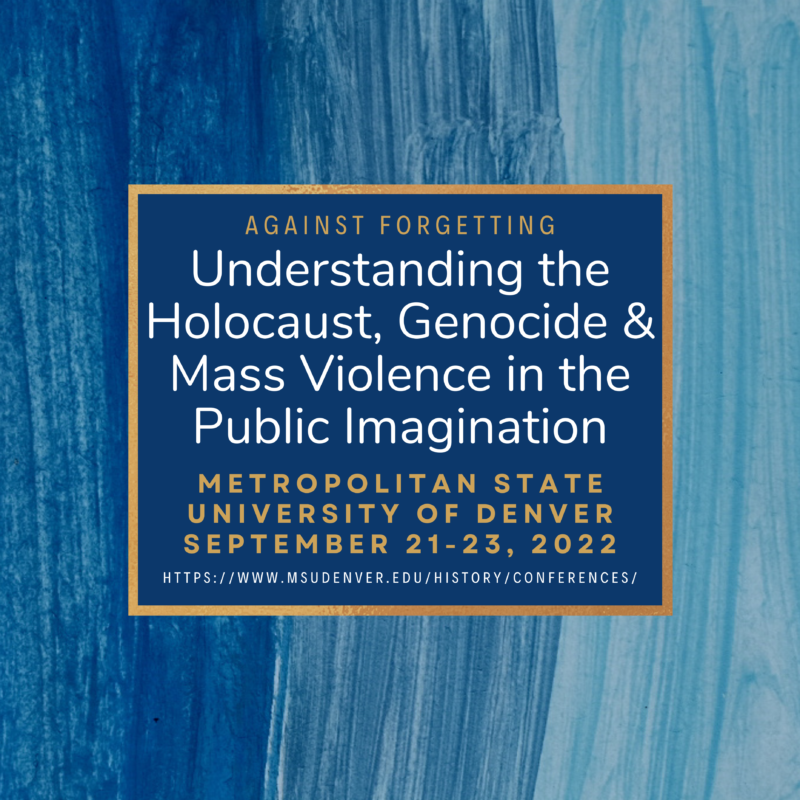 Call for Proposals: Understanding the Holocaust, Genocide, and Mass Violence in the Public Imagination Conference
September 21 – 23, 2022
Metropolitan State University of Denver
Call for Papers, Panels, Roundtables, and Presentations
Keynote Speakers: Susan Neiman, PhD (Einstein Forum, Germany) Donald Fixico (Shawnee, Sac and Fox, Muscogee Creek and Seminole), PhD (Arizona State University, USA)
Public consciousness regarding the Holocaust and other genocides has reached a critical juncture in American society. A recent survey on Holocaust awareness revealed a fundamental lack of knowledge about the Holocaust among 18 to 39-year-old Americans. At the same time, incidents of Holocaust denial, anti-Semitism, racialized violence, and significant ignorance and disregard for the Genocide visited upon Indigenous communities persists in public discourse. With the regular and troubling misuse of historical comparisons by public officials and a newly invigorated ideologically driven attack on public education, we have reached a critical moment.
In recognition of the importance of Holocaust, Genocide, and violence studies in American society, Metropolitan State University of Denver will host a conference in September of 2022. We invite proposals for panels, roundtables, and papers from scholars and practitioners from all disciplines.
Topics that will be considered, but not limited to include:
• The Holocaust and its representations
• Comparative Genocide
• Depictions of genocide in art, literature, and film
• Holocaust and Genocide denial
• Indigenous peoples and Genocide
• Politics of memory
• Discourse of reparative justice.
• Public Monuments
This conference seeks to interrogate the state of Holocaust and Genocide studies in public discourse. It will be organized as a series of roundtables, panels, and keynotes in order to promote critical thinking and discussion in a forum that will allow experts to engage and stimulate meaningful conversations with a broader public. We hope you will consider joining us. Again, all disciplines are welcome.
Proposals should include a presentation abstract (500 words maximum) and a one-page CV for each presenter.
We prefer complete panel proposals, but individuals are welcome and encouraged to submit abstracts and a one-page CV as well.
Please send proposals and any queries to [email protected].
Proposal Deadline: April 1, 2022
Notification of acceptance: May 10, 2022
Organizing committee: David Fine, JD; Adam Graves, PhD; Andrea Maestrejuan, PhD; Matthew Makley, PhD; Craig Svonkin, PhD; Renée Ruderman, MA; Brian Weiser, PhD
Conference URL: https://www.msudenver.edu/history/conferences/
For more information contact Dr. Andrea Maestrejuan, Department of History, Metropolitan State University of Denver, Campus Box 27, P.O. Box 173362, Denver, CO 80217-3362
Contact email: [email protected]