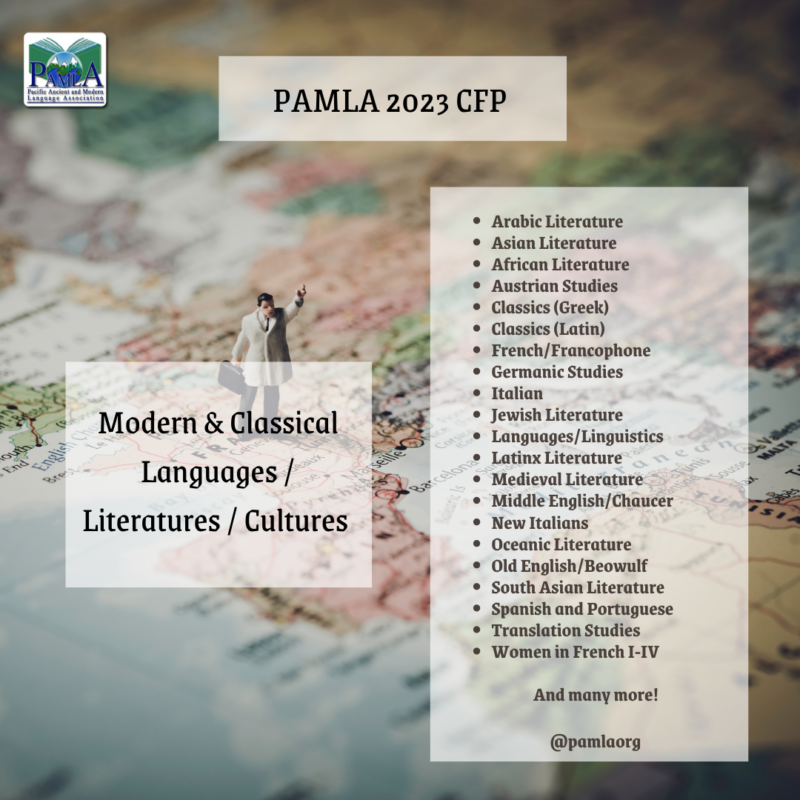 PAMLA 2023 is pleased to highlight our open sessions within our Modern and Classical Languages, Literatures, and Cultures fields of study!
While not an exhaustive list, we have highlighted a majority of our cornerstone PAMLA language and literature sessions (some new, some not so new) below, including:
Asian Literature
African Literature
Austrian Studies
Classics (Greek)
Classics (Latin)
French/Francophone
Germanic Studies
Italian
Italian Ecocriticism
Jewish Literature
Languages/Linguistics
Latinx Literature
Medieval Literature
Middle English/Chaucer
New Italians
Oceanic Literature
Old English/Beowulf
South Asian Literature
Spanish and Portuguese
Translation Studies
Women in French I-IV
Western Influences in Arabic Literatures
We have many more sessions concerning world languages and literatures, as well as film and media, too, so please do visit our CFP page to find more sessions for you! We look forward to reading your submissions!