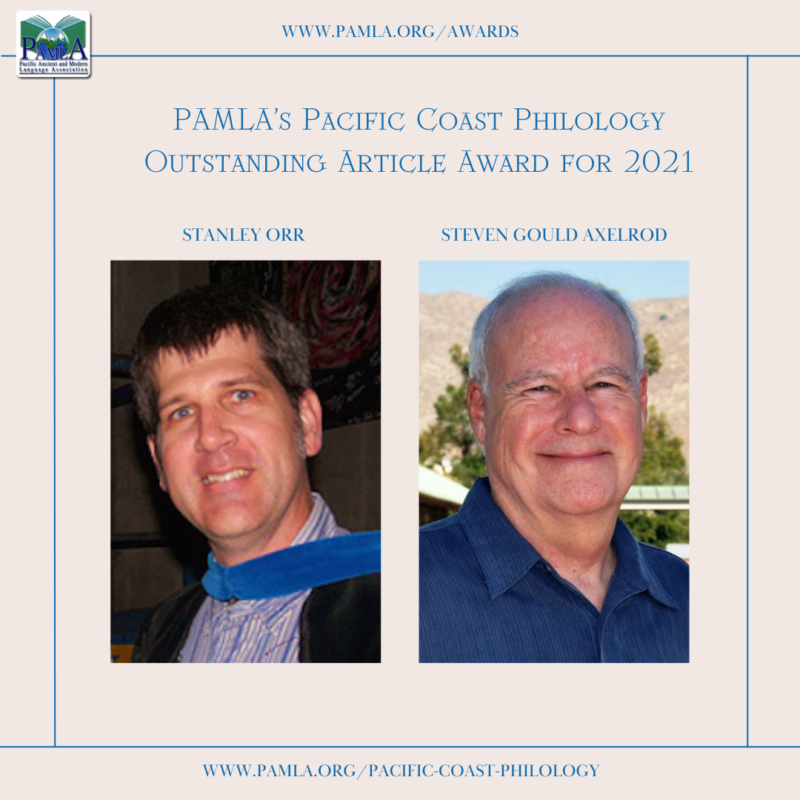 On behalf of PAMLA's Pacific Coast Philology Award Committee, we are pleased to announce an embarrassment of riches for PAMLA's Pacific Coast Philology Outstanding Article Award for 2021. We have selected two first-place co-winners: Steven Gould Axelrod's "Ginsberg's Brinkmanship" (Volume 55, Issue 2, 2020, edited by Roswitha Burwick and Richard Sperber), alongside Stanley Orr's "Taft's Chair, Sierra Cross, and Other Props: Mission Revival Hospitality Pageants with Theodore Roosevelt and William Howard Taft, 1899-1909" (Volume 56, Issue 1, 2021, edited by Katherine Kinney). Both essays are innovative and engaging, bringing new insights to familiar people and places with clarity and rigor.
Pacific Coast Philology (PCP), the journal of the Pacific Ancient and Modern Language Association, has been a leading literary and cultural studies journal, publishing peer-reviewed essays of interest to scholars in the classical and modern languages, literatures, and cultures for over fifty years. PCP publishes two annual issues on a wide array of timely, thought-provoking topics in the areas of culture, literature, aesthetics, ideology, film, and theory.
Steven Gould Axelrod's "Ginsberg's Brinkmanship" argues that "Ginsberg functioned in Cold War culture as an oppositional figure, but his worldview was shaped by, and in some ways consistent with, the culture and habits of mind it critiques. [The] article posits that Ginsberg and Secretary of State John Foster Dulles were doubles of each other, though doubles with a difference." With engaging juxtapositions, Axelrod makes the case that the very things that Ginsberg championed – communism, homosexuality, drug use – intersected with the ideologies of American exceptionalism, individuality, and "brinksmanship" (achieving deterrence through threats of massive military retaliation), which were embraced by Dulles, who like Ginsberg "was willing to court disaster in order to carve out a space of freedom for himself, to become the center of attention, and to effect cultural change." Axelrod prompts not only a reevaluation of why Ginsberg got away with so much for so long, but also a reevaluation of mid-century counterculture and how hegemonic U.S. culture can safely absorb the energies of some of its most ardent critics.
Steven Gould Axelrod is Distinguished Professor of English at the University of California, Riverside. He has served as president of PAMLA and is the founding president of the Robert Lowell Society. He is the author of Robert Lowell: Life and Art (1978), Sylvia Plath: The Wound and the Cure of Words (1990), and seventy-five scholarly articles. He has edited or coedited The Critical Response to Robert Lowell (1999), The New Anthology of American Poetry, Volumes 1-3 (2003-12), The Bloomsbury Handbook of Contemporary American Poetry (forthcoming 2023), and The Memoirs of Robert Lowell (forthcoming). He is currently completing a book called Cold War Poetics.
Stanley Orr's "Taft's Chair, Sierra Cross, and Other Props" provides a rigorous and precise analysis of the ideological uses of California Mission Revival architecture at the turn of the twentieth century. He reminds us that "theatricality has persisted as a central tactic of empire in the U.S. borderlands – from the rituals Spanish missionaries used to attract Native Americans to the historical dramas of Anglo-American boosters." Orr then focuses specifically on the "ceremonial pageants that took place at Mission Revival hotels throughout the early twentieth century – to wit, Governor Theodore Roosevelt's visit to the 1899 Rough Riders Reunion at the Castañeda Hotel in Las Vegas, New Mexico, and President William Howard Taft's 1909 Columbus Day sojourn at the Glenwood Mission Inn in Riverside, California." These "hospitality pageants" cast visiting dignitaries as the natural inheritors of grand (and largely fantastical) Old World conquest. Orr's astute analysis de-naturalizes the familiar landscapes of California architecture and illuminates the ways in which the manufactured nostalgia for Spanish colonial practices helped to reify Anglo-American domination of the West.
Stanley Orr hails from Riverside, California, and is Professor of English at the University of Hawai'i, West O'ahu. He is the author of Darkly Perfect World: Colonial Adventure, Postmodernism, and American Noir (Ohio State UP, 2010), which charts a trajectory of the noir ethos from fin de siècle adventure through postmodernist parody and revision. Orr has also published articles in journals such as American Quarterly, Studies in American Humor, and Jouvert: A Journal of Postcolonial Studies.
We greatly appreciate the academic dedication and intellectual rigor of Axelrod's and Orr's articles, and encourage all of our members to read them, now via our new Journal link available at pamla.ballastacademic.com for all of our current PAMLA members, or in your print issue (if your library doesn't receive Pacific Coast Philology please ask them to subscribe). We will be recognizing our award winners at this year's PAMLA conference at UCLA.
We hope that Axelrod's and Orr's articles will be widely read across our academic community, along with the many other fascinating, informative, scholarly essays published in Pacific Coast Philology, and that this award will encourage even more of our members—be they well-established, mid-career professors, lecturers, part-time faculty, independent scholars, or graduate students—to submit their scholarly articles to Pacific Coast Philology for consideration: https://www.pamla.org/pacific-coast-philology/.
On behalf of PAMLA, we wish to thank this year's Pacific Coast Philology Award Committee members, Professors Satoko Kakihara, Leonard Koff, and Amy Parsons, and PAMLA Assistant Director Sonia Christensen. PAMLA thanks the committee as well as our honorees for all of their extraordinary work.