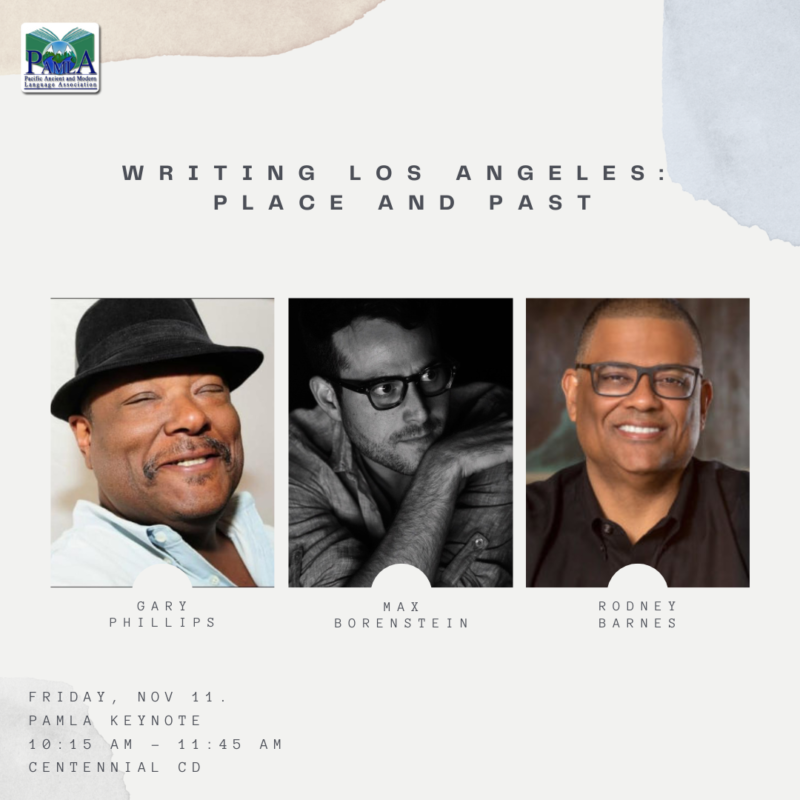 We are excited to present our PAMLA 2022 Keynote: "Writing Los Angeles: Place and Past," on Friday, Nov 11 from 10:15- 11:45 AM in Centennial CD, featuring Los Angeles based writers Gary Phillips, Max Borenstein, and Rodney Barnes! These three LA-based writers will speak about their creative writing involving Los Angeles and its complex history as a character in their works.
Gary Phillips, "Inner City Confidential: The Intersection of Crime Fiction and Historic Black L.A."
Novelist and television writer Gary Phillips will discuss blending the real and the created in his recent novel One-Shot Harry, set in 1963 segregated L.A., and the landscape of South Central Noir, a new anthology he edited of stories covering various time periods. In telling these tales, larger truths are sought.
Son of a mechanic and a librarian, Gary Phillips has held a variety of positions from a community organizer around police abuse, a labor union rep, a printer, outreach director for a social change foundation, to delivering dog cages. Over the years he's published various novels, comics, novellas, short stories, and edited or co-edited several anthologies including the award-winning The Obama Inheritance: Fifteen Stories of Conspiracy Noir and the just released South Central Noir. Violent Spring, his debut mystery almost thirty years ago, which was set in the aftermath of L.A.'s '92 civil unrest, was named in 2020 one of the essential crime novels of the city. One-Shot Harry is his 22nd and most recent mystery novel. The Washington Post said the book "is fast-paced, tough, wry and smart." Phillips is also a writer/co-producer on FX's Snowfall, about crack and the CIA in 1980s South Central where he grew up.
Max Borenstein and Rodney Barnes, "Showtime Between the Barricades: Perspectives on Race, Celebrity, and Belonging in Late-20th Century Los Angeles"
Ralph Ellison famously described the mid-twentieth century curse of "invisibility" afflicting African Americans. The 1965 Watts Uprising explosively altered this equation in LA, but, as exemplified in the HBO series Winning Time, more subtle eruptions of Black cultural entrepreneurship in the succeeding decades provide a host of alternative visions of multiracial community, citizenship, and celebrity in the region. 
Max Borenstein is a writer/director/show runner best known for writing Worth and several modern Godzilla / King Kong blockbusters. A native Angeleno, Borenstein has created two TV series revolving around the region's charged social and ethnic history: The Terror: Infamy and Winning Time: The Rise of the Lakers Dynasty.
Originally from Annapolis Maryland, Rodney Barnes is a writer and producer known for working in a range of genres, such as comedies like Boondocks and Everybody Hates Chris to dramas like Winning Time: The Rise of the Lakers Dynasty and comic books like Killadelphia.