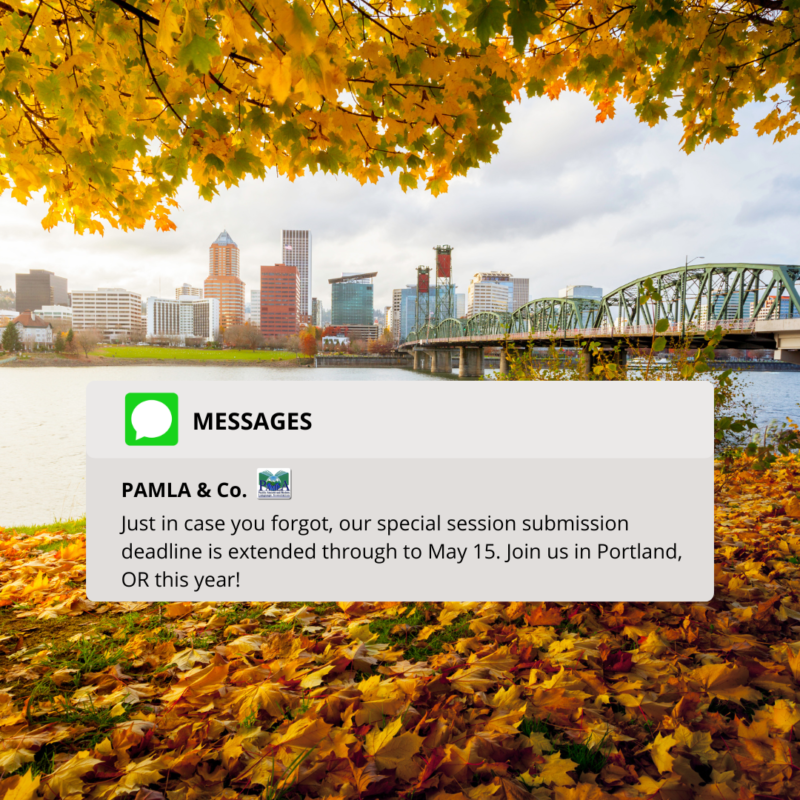 PAMLA is extending our Special Session CFP to May 15! We welcome special session proposals at pamla.ballastacademic.com on the preceding topics related to the special theme, but also on other topics of broad interest (in other words, special session proposals will be entertained that do not connect to the conference theme, as well as proposals that do). This year, we are particularly interested in special session proposals broad enough to perhaps justify becoming general (standing) sessions after three successful years as special sessions (see below for a list of current general (standing) sessions for the PAMLA conference. For example, PAMLA's board would welcome special session proposals on topics such as:
• 1923
• African Literature
• Multilingual American Literature (in other languages than English, or in English and other languages, both)
• Arabic Literature and Culture
• ASL
• Audiences or Reader Response Theory
• Audio (or Sound) Studies
• Books: perhaps including Textual Studies, Materiality, History of the Book, etc.
• Canadian Literature and Culture
• Class or Marxist Literature, Film, and Culture
• Creative Writing: Drama or Creative Writing: Creative Nonfiction or other topics of interest
• Digital Humanities
• Environmental Media
• Family (or Metafamily)
• Fan Fiction or Fan Studies
• Futurisms (to include Afrofuturism, Indigenous Futurism, etc.) Or Multi-Ethnic Futurisms
• Hmong
• Immigrant Studies (Or Movement, Migration, and Immigration)
• Infrastructure Studies
• Interdisciplinary or Innovative sessions
• Teaching of Literary Works (focusing on a particular work)
• Modernism
• Multi-ethnic German
• Museum Studies
• Objects, Stuff, and Things; Object Studies
• Pedagogy
• Performance Studies
• Portuguese
• Posthuman or Animal Studies
• Posthumanities
• The Postmodern
• Slang, Languages, and Dialects (or Underground Languages)
• Sociolinguistics
• Spatial Studies
• Transcultural (or Transnational) Literature
• Translation Studies
• Vietnamese
If you have any questions, please contact PAMLA Executive Director Craig Svonkin ([email protected]) or PAMLA President Yolanda Doub ([email protected]).
Current general (standing) PAMLA sessions are:
21st-Century Literature; Adaptation Studies; African American Literature; American Literature before 1865; American Literature 1865-1945; American Literature after 1945; Ancient-Modern Relations; Anime and Manga; Architecture, Space, and Literature; Asian American Literature; Asian Literature; Austrian Studies; Autobiography; Bible and Literature; British Literature and Culture: To 1700; British Literature and Culture: The Long Eighteenth Century; British Literature and Culture: The Long Nineteenth Century; British Literature and Culture: 20th and 21st Century; Carceral/Prison Studies; Children's Literature; Classics (Greek); Classics (Latin); Coalitional Feminisms; Comics and Graphic Narratives; Comparative American Ethnic Literature; Comparative Literature; Comparative Media; Composition and Rhetoric; Creative Writing; Critical Theory; Cultural History; Digital Studies; Disability Studies; Disney and Its Worlds; Drama and Society; East-West Literary Relations; Film and Literature; Film Studies; Folklore and Mythology; Food Studies; French; Gay, Lesbian and Transgender Literature; Germanic Studies; Gothic; Hip-Hop Poetics; Indigenous Literatures and Cultures; Italian; Italian Cinema; Italian Ecocriticism; Jewish Literature and Culture; Latina/o Literature and Culture; Linguistics; Literature & the Other Arts; Literature and Religion; Medieval Literature; Middle English Literature, including Chaucer; New Italians; Oceanic Literatures and Cultures; Old English Literature, including Beowulf; Poetry and Poetics; Post-Colonial Literature; Religion in American Literature; Rhetorical Approaches to Literature; Romanticism; Science Fiction; Shakespeare and Related Topics; Spain, Portugal, and Latin America: Jewish Culture & Literature in Trans-Iberia, Spanish and Portuguese (Latin American); Spanish and Portuguese (Peninsular); Teaching with Media and Technology; Teaching Writing Across the Disciplines; Television Studies; Travel and Literature; Veterans Studies; Video Game Studies; Western American Literature; Women in Literature; Young Adult Literature and Culture.