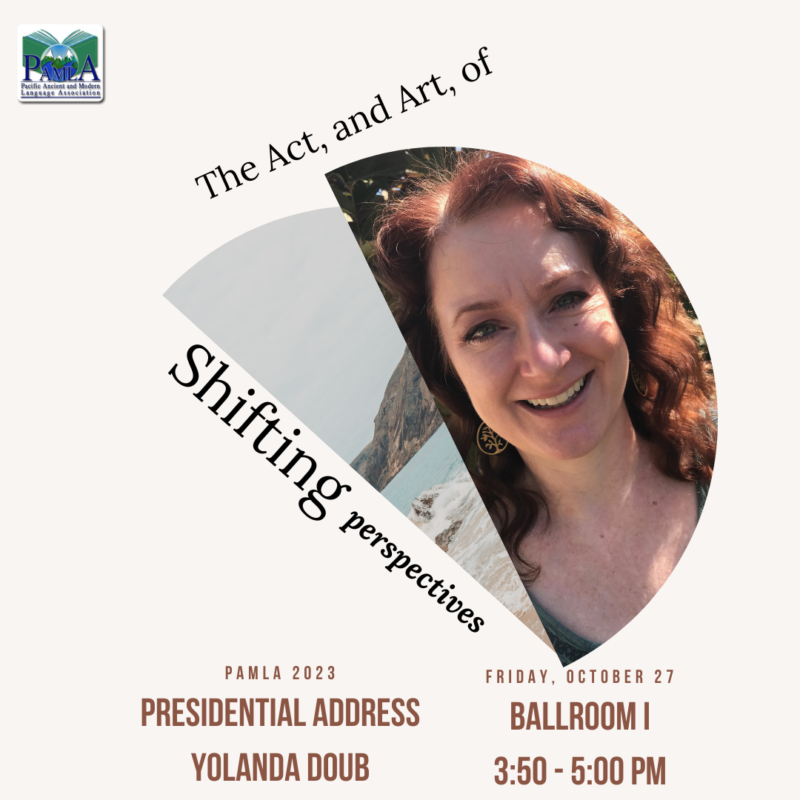 Please join us for our annual Presidential Address, always a highlight of the PAMLA conference, on Friday, October 27 in Ballroom I at the Hilton Portland Downtown from 3:50–5 pm, followed by the PAMLA Reception.
Dr. Yolanda Doub will be delivering an interdisciplinary address titled "The Act, and Art, of Shifting Perspectives." What do Borges, Frida Kahlo, Marcus Aurelius, cognitive behavioral therapy, disability studies, and literary theory have in common? Join our President Yolanda Doub as she illustrates diverse ways in which shifting perspectives can be construed as both a conscious act, and an art, with implications that touch upon myriad aspects of our professional and personal lives.
Yolanda Doub is Professor of Spanish at California State University, Fresno, where she teaches undergraduate and graduate courses on the Spanish American Bildungsroman, Borges, Mexican culture, the Spanish American "Boom," and major Hispanic novelists. Doub earned a B.S .in Psychology and Spanish at Santa Clara University, and a Ph.D. in Spanish at the University of Colorado, Boulder. Her scholarship focuses on coming-of-age stories in Latin American and Latinx literature and film, as well as Southern Cone and Mexican literature, adaptation studies, and film studies. Her published academic work includes Journeys of Formation: The Spanish American Bildungsroman (Peter Lang, 2010), essays on Bernice Zamora and Luis Alberto Urrea in Latinos: Great Lives from History (Salem, 2012), and articles in Hispanic Review and Symposium, as well as an essay on the Latino Bildungsroman in Latino Literature: An Encyclopedia for Students (Bloomsbury, 2023). She is fascinated by interdisciplinary connections.