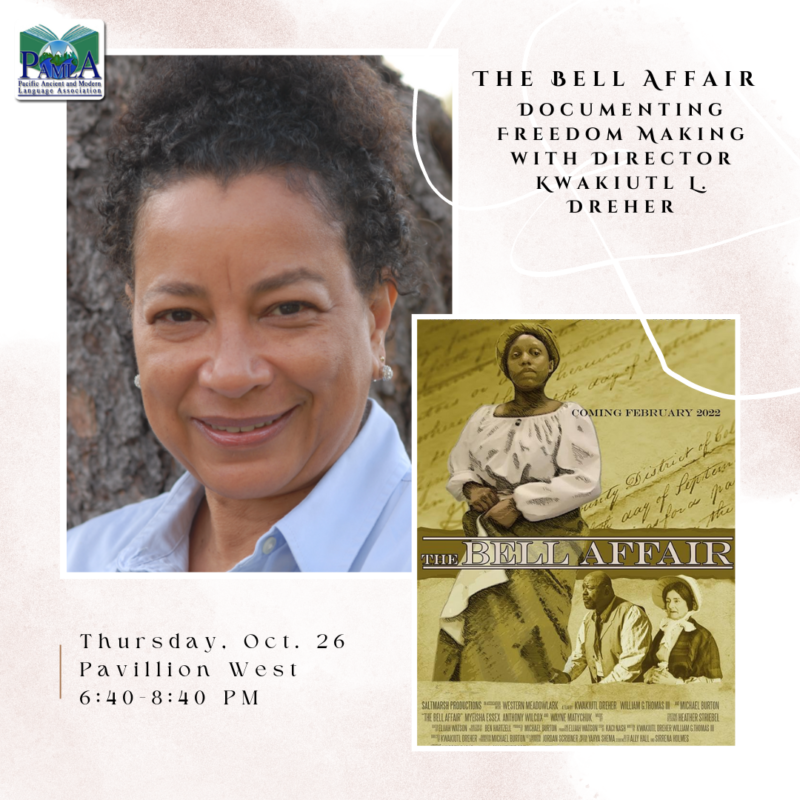 Please join us on Thursday, Oct. 26, from 6:40-8:40 pm in Pavilion West, for a special screening of the historical documentary The Bell Affair, followed by a discussion with the film's director, co-writer, and producer, Kwakiutl L. Dreher. Professor Dreher's film follows the true story of Daniel and Mary Bell, an enslaved couple who initiated the largest attempted escape attempt in U.S. history. You can make a reservation at pamla.ballastacademic.com by clicking on Registration, to help us to estimate how many will be there for the event. If you have any questions about the event, please email PAMLA Executive Director Craig Svonkin: [email protected].

Kwakiutl L. Dreher is a director, screenwriter, playwright, actor, and author from South Carolina, as well as an Associate Professor of English at the University of Nebraska–Lincoln. Dreher earned a B.A. in English from the University of South Carolina-Columbia; an M.A. in English from Clark Atlanta University; and, Doctorate in English and Film Studies from the University of California—Riverside.
Dreher wrote the screenplay, Anna, (www.annewilliamsfilm.com) and plays the mother, Nan, to the main character in the story. Anna won Best Animation at the New Media Film Festival in Los Angeles and the research on the film received the Mary L. Dudziak Digital Legal History Prize (O Say Can You See). She directed, co-wrote, and -produced The Bell Affair, a feature-length film based on the true story of Daniel and Mary Bell, an enslaved family who initiated the largest escape to freedom in the history of the nation. Funded by the National Endowment for the Arts, The Bell Affair won Best Animation in the Prince George's County Film Festival; received a Certificate of Nomination for International Award – Experimental in the Cannes at the Silk Roads Film Festival; and won 2022 Creative Work of the Year by NuTech Ventures at the University of Nebraska.
She is currently in post-production for The Diary of Michael Shiner, a film based on Michael Shiner, an enslaved person in Washington, D.C. who wrote a diary that spans 60 years.
In theater, she produced and starred in her one-woman show, In A Smoke-Filled Room, Color Matters at the University of California-Riverside's Theatre Lab; Haymarket Theatre, The Nebraska Public Media's open space lab, and the Sheldon Art Museum in Lincoln, Nebraska. In A Smoke-filled Room is a Finalist for the Ida B. Wells Disrupting the Narrative Fund and a playlab selection at the Great Plains Theater Festival in Omaha, Nebraska. Dreher directed Janice Liddell's Who Will Sing For Lena at The Haymarket Theatre and Regina Taylor's Crowns at the Lincoln Community Playhouse. She was cast as Mamie Till in Janet Langhart's Anne & Emmett; Mrs. Harriet Gottlieb in Sarah Ruhl's Dead Man's Cellphone; and Louise in the film The Eyes of Isabelle (dir Matthew Kister). She is the author of her blog www.thedreherreport.com which expands the dialogue on visual culture beyond its entertainment value.
A storyteller at heart, she has written and recorded reader responses for Nebraska Public Media entitled "Houses, Histories, and Los Angeles in Walter Mosley's Devil in A Blue Dress" and "Mary Wilson's Dreamgirl: My Life as a Supreme." She is a film reviewer for the Mary Riepma Ross Media Arts Center in Lincoln. She currently is at work on two projects. The first is a murder mystery set in Columbia, South Carolina, her hometown. The second is a book exploring Black love across genre and media.
She published Dancing on the White Page: Black Women Entertainers Writing Autobiography (SUNY Press); and, among other articles, "Don't Slap Yo' Gran'Momma: Tyler Perry and Madea"; "'I really need a maid' White Womanhood in The Help"; "'Scandal' and Black Women in Television"; and, "'I Got Something to Say': Mayella in To Kill A Mockingbird".