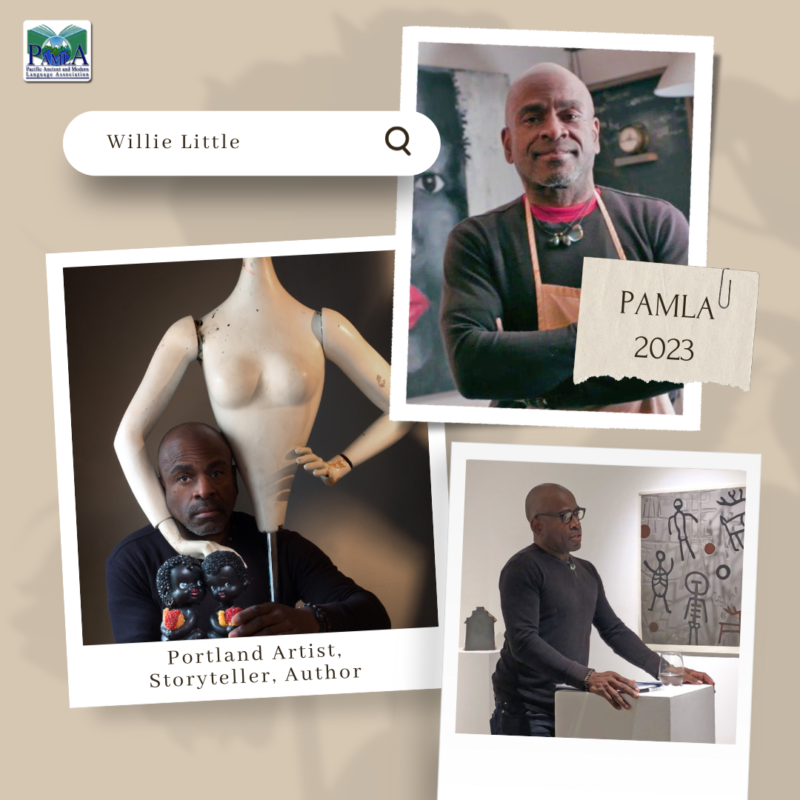 Please join us for our free PAMLA Opening Event, "Willie Little: Portland Artist, Storyteller, Author," on Thursday, October 26, from 9:40 to 10:45 am in the Hilton Portland Downtown's Grand Ballroom I.
Willie Little, a Black multimedia artist and author, will share his art and discuss his experiences as an author, storyteller, and artist creating work in Portland. Little's art is featured in PAM/the Portland Art Museum's current exhibition, Black Artists of Oregon (PAM is a six-minute walk from the Hilton; PAMLA members showing their nametags will receive a $10 entrance ticket).
Little's visual narratives document a fading part of rural southern life while also tackling topics of racism and Black Lives Matter, Social Justice, and the childhood memories of growing up on a tobacco farm in Eastern North Carolina. His memoir, In the Sticks, documents his years growing up as a poor, Black and gay child in the rural south. He currently resides in the Palm Springs area and Portland, Oregon.
Little is an artist whose genius incorporates sculpture, painting, sound installations, re-constructed architecture, re-cycled memorabilia, and real-life stories. Willie pours out his soul for all to see as he relives growing up during a time of radical change. The common thread in all the work he creates is his examination of the manifestations of physical and societal decay in American culture.
Willie received his B.A. from the University of North Carolina at Chapel Hill. His solo exhibits include the Smithsonian Institution, the Center for Documentary Studies at Duke University, the Froelick Gallery in Portland, the Noel Gallery in Charlotte, the American Jazz Museum, and the Rosa Parks Museum in Montgomery, Alabama.
Notable group exhibitions include the Corcoran, the California Folk Art Museum and three International Assemblage exhibitions in Berlin, Germany. He also participated in The Hourglass Project: Baggage, an internationally renowned residency and exhibition program, which toured venues throughout South Africa, Belgium, and Mozambique; the work is archived in a catalog published by Caversham Press. (South Africa)