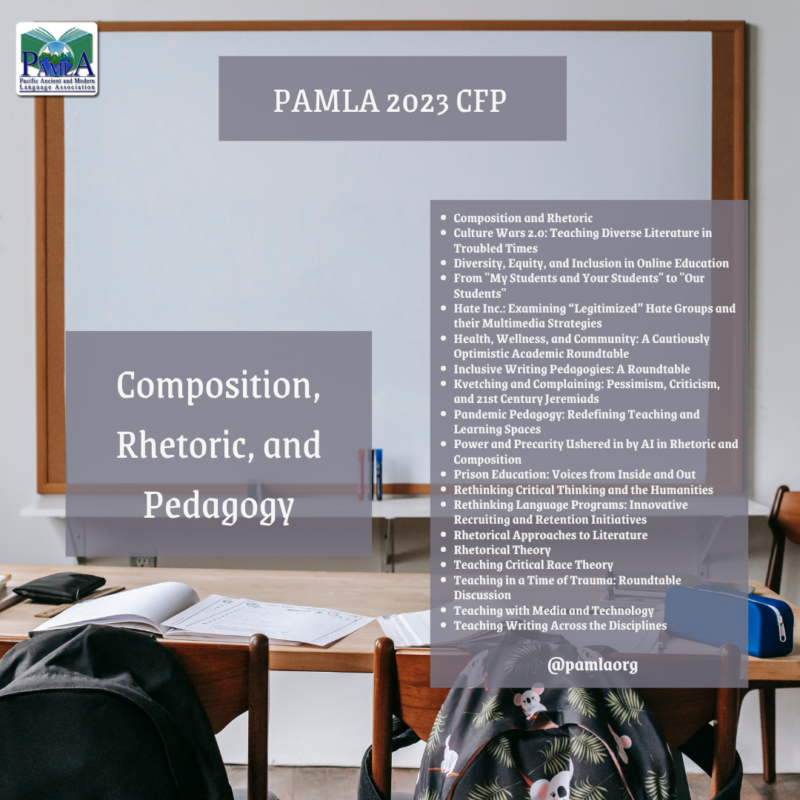 PAMLA 2023 is pleased to highlight our open sessions featuring composition, rhetoric, pedagogy, and professional development including:
Composition and Rhetoric
Culture Wars 2.0: Teaching Diverse Literature in Troubled Times
Diversity, Equity, and Inclusion in Online Education
From "My Students and Your Students" to "Our Students"
Hate Inc.: Examining "Legitimized" Hate Groups and their Multimedia Strategies
Health, Wellness, and Community: A Cautiously Optimistic Academic Roundtable
Inclusive Writing Pedagogies: A Roundtable
Kvetching and Complaining: Pessimism, Criticism, and 21st Century Jeremiads
Pandemic Pedagogy: Redefining Teaching and Learning Spaces
Power and Precarity Ushered in by AI in Rhetoric and Composition
Prison Education: Voices from Inside and Out
Rethinking Critical Thinking and the Humanities
Rethinking Language Programs: Innovative Recruiting and Retention Initiatives
Rhetorical Approaches to Literature
Rhetorical Theory
Teaching Critical Race Theory
Teaching in a Time of Trauma: Roundtable Discussion
Teaching with Media and Technology
Teaching Writing Across the Disciplines
The deadline is June 30th or when the sessions are filled.
We have many more sessions open at our CFP page! We look forward to reading your submissions, and hopefully, seeing you in Portland this October.