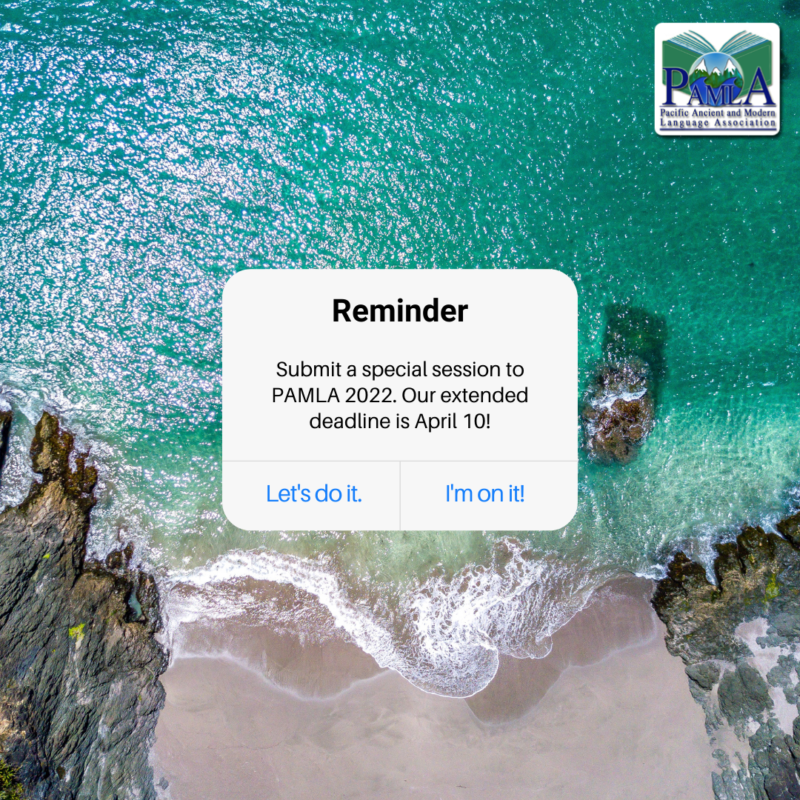 PAMLA would like to announce that we have extended the deadline for our 2022 Call for Special Sessions: now to April 15! We would like another ten strong special sessions for this terrific conference (November 11-13, 2022 at the lovely UCLA Luskin Hotel and Conference Center). So, please consider proposing a session and spreading the word. And, we are particularly interested in creative session formats: workshops, creative conversations, roundtables, special events (https://www.pamla.org/conference/session-formats/).
You may submit your special session proposal here at pamla.ballastacademic.com, and if you need any help with deciding what to submit, you can check our 2022 Conference Theme. If the conference theme does not suit your fancy, you may also submit a special session on any Humanities topic that is not included in our list of existing General/Standing Sessions below, (ex: Persian Literature and Culture, Contemporary Chinese Cinema, Women in Medieval Italian Literature, etc.):
21st-Century Literature; Adaptation Studies; African American Literature; American Literature before 1865; American Literature 1865-1945; American Literature after 1945; Ancient-Modern Relations; Architecture, Space, and Literature; Asian American Literature; Asian Literature; Austrian Studies; Autobiography; Bible and Literature; British Literature and Culture: To 1700; British Literature and Culture: The Long Eighteenth Century; British Literature and Culture: The Long Nineteenth Century; British Literature and Culture: 20th and 21st Century; Children's Literature; Classics (Greek); Classics (Latin); Coalitional Feminisms; Comics and Graphic Narratives; Comparative American Ethnic Literature; Comparative Literature; Comparative Media; Composition and Rhetoric; Creative Writing; Critical Theory; Disability Studies; Disney and Its Worlds; Drama and Society; East-West Literary Relations; Film and Literature; Film Studies; Folklore and Mythology; Food Studies; French; Gay, Lesbian and Transgender Literature; Germanic Studies; Gothic; Indigenous Literatures and Cultures; Italian; Italian Cinema; Italian Ecocriticism; Jewish Literature and Culture; Latina/o Literature and Culture; Linguistics; Literature & the Other Arts; Literature and Religion; Medieval Literature; Middle English Literature, including Chaucer; New Italians; Oceanic Literatures and Cultures; Old English Literature, including Beowulf; Poetry and Poetics; Post-Colonial Literature; Religion in American Literature; Rhetorical Approaches to Literature; Romanticism; Scandinavian Literature and Culture; Science Fiction; Shakespeare and Related Topics; Spain, Portugal, and Latin America: Jewish Culture & Literature in Trans-Iberia, Spanish and Portuguese (Latin American); Spanish and Portuguese (Peninsular); Teaching with Media and Technology; Teaching Writing Across the Disciplines; Television Studies; Travel and Literature; Video Game Studies; Western American Literature; Women in Literature; Young Adult Literature and Culture.
We look forward to seeing your submissions soon!