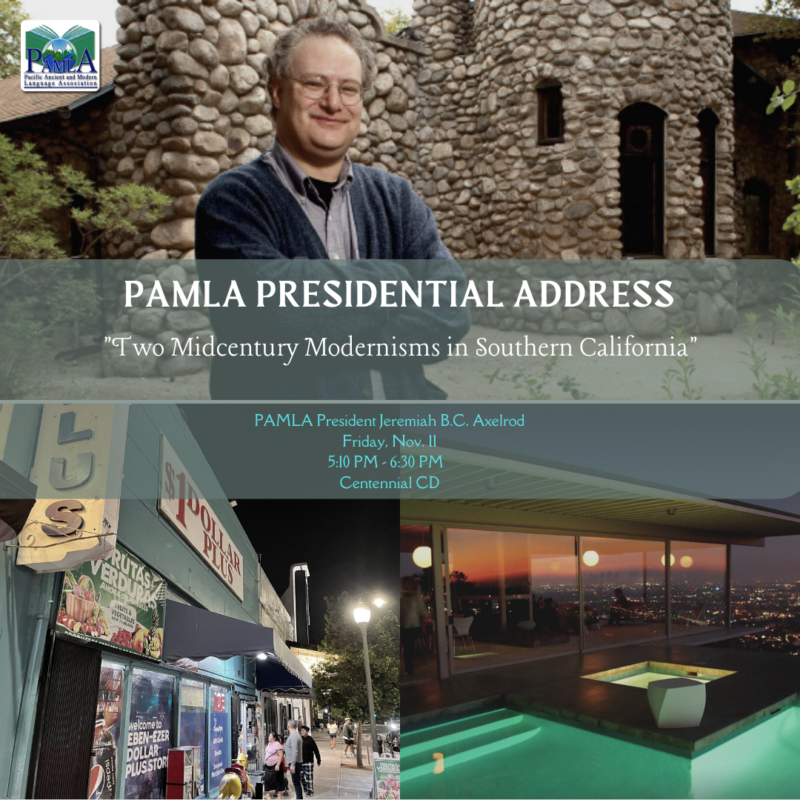 PAMLA is proud to announce our Presidential Address for Friday, November 11 at the UCLA Luskin Conference Center & Hotel from 5:10 – 6:30 PM. In his Presidential Address, "Two Midcentury Modernisms in Southern California," PAMLA President Jeremiah B.C. Axelrod (Occidental College) will explore the relationship between high modernist and everyday vernacular visions of  imagined and lived spaces throughout Los Angeles. By specifically rethinking the significance of the famous Stahl House and the sprawling, rhizomatic communities below the Hollywood Hills, Dr. Axelrod illustrates the complexity of American modernism (high and low), and specifically asks: who gets to exercise the aesthetic and social right of shaping such a modern metropolis like Los Angeles.
Dr. Axelrod is the founding director of the Institute for the Study of Los Angeles, and author of Inventing Autopia: Envisioning the Modern Metropolis in Jazz Age Los Angeles, published by the University of California Press in 2009, as well as several articles and book chapters. His research probes the connections between visuality, urban topography, memory, gender, race, and transportation in twentieth century urban environments, with an emphasis on Southern California. He has presented more than sixty formal papers at academic and public policy conferences around the world and is a board member of the Historical Society of Southern California, the Lummis Day Community Foundation, and the National Trust for Historic Preservation's Executive Committee for the Historic Southwest Museum Site.
Born in Hollywood, "Jem" Axelrod grew up primarily in Riverside, California, and now lives with his wife, Lil Gomez Delcampo, and their twin daughters, Amalia and Sophie, in Alhambra, California.