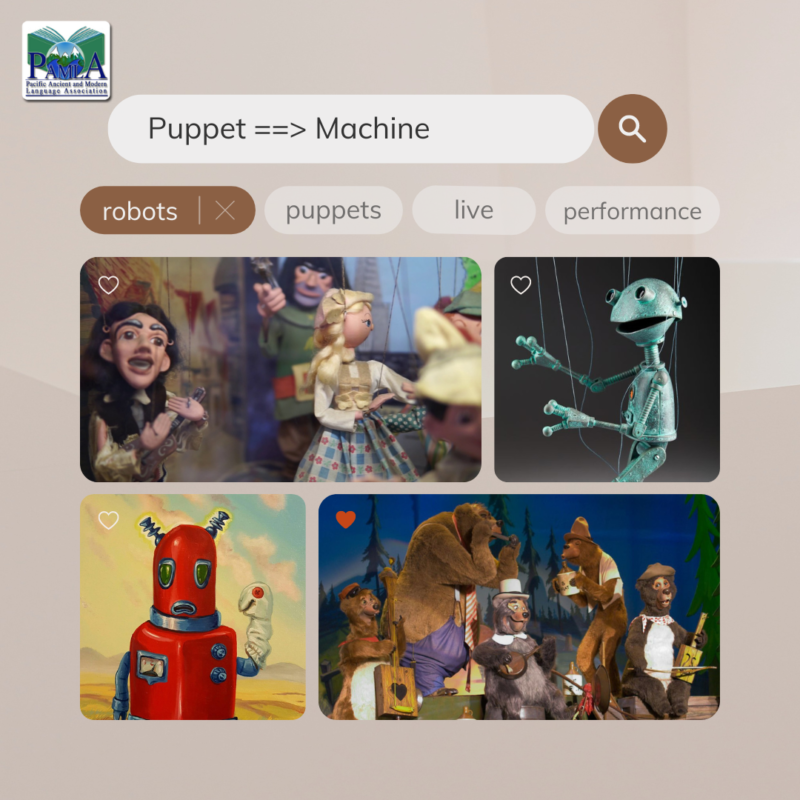 Join us for one of PAMLA's best live conference events: "Puppet ==> Machine: A Live Performance." This special live event will take place on Saturday, November 12, from 7:30 – 9:30 PM, in Centennial CD at the UCLA Luskin Conference Center!
This session will feature puppet performances, discussions, and meditations on the new intentions, possibilities, and methods of puppetry, as considered in animation, game design, VR, AI, algorithms, theories of personality, etc. alongside experts in ventriloquism, puppetry, robotics, and animatronics, namely Rick Mitchell, Mark Setrakian, and Ron Binion.

Rick Mitchell (California State University – Northridge), "The Ventriloquial Condition (Unplugged)"
Rick Mitchell will consider the impact of putting voice back into the object in the context of live ventriloquial performance. In this performance, Dr. Mitchell asks: "does the ventriloquist's talking figure re-estrange the strangeness and return the audience to a position from which they can re-establish and re-evaluate (in a Brechtian sense) their personal connection to the disembodied cacophony?" As a ventriloquist, Mitchell uses his relationship with his 'dummy' to field questions/attacks/repartee with the audience, further addressing how ventriloquism can both de-familiarize and "speak back" to our current technological environment, the virtual public square, and the multiplicity of disembodied voices that populate it.
Rick Mitchell is an award-winning dramatist whose books include Disaster Capitalism; or Money Can't Buy You Love; Brecht in L.A.: A Play; The Ventriloquist: Two Plays and Ventriloquial Miscellany; and the critical anthology, Experimental O'Neill. He is a professor at CalState Northridge, where he teaches playwriting and related courses in the Department of English.
Mark Setrakian, "Puppetry and Connection"
Using examples from his career in Hollywood as an effects specialist, Mark Setrakian will talk about robot control systems in connection to puppeteering, and how the two work together to bring fantastical things into daily existence. His presentation will include a slide show in which I explain the operation of my puppeteering and robotics control system, the "Motion Synthesizer," which has been used to animate the terrifying creature of Stranger Things, as well as the animatronic dancer in Jordan Wolfson's installation, Female Figure. In the latter work, the gender ambiguous robot locks eyes with visitors to the gallery, compelling them to engage interpersonally, a case of the Uncanny Valley in live performance. No less than Punch or Kermit or Charlie McCarthy, these fantastical beings actually do exist, if only for a limited time, in their special environment. 
Mark Setrakian is a leading expert in animatronics and robotics. He creates control systems for projects ranging from Men in Black to Hellboy to Stranger Things. Working at the boundary between art and engineering, Mark holds patents in robotics and is the inventor of the Stuntronics Spiderman robot at Disneyland.
Ronald Binion, "Puppetry and Connection"
Ronald Binion will demonstrate puppetry concepts with a live puppetry performance, drawn from his work with live audiences. His performance pieces include a man having electroconvulsive shock therapy and forgetting who he is, an office worker having a schizophrenic break while reading the newspaper in his office, and a recreation of the psychological/behavioral experiments performed on Rhesus Monkeys in the 50's which gave us the terms: Wire cage mother verses Terry Cloth mother. All are meant primarily for a live audience to enjoy. To embody the above, he will perform one of my shows, and invite discussion after.
Ronald Binion is a performer, designer, and fabricator for film, television, theater and humanitarian puppetry. In addition to creating independent shows, he has designed and built puppets for the Jim Henson Company, and is known for his work, among others, on Ghostbusters: Afterlife, LazyTown, and The Book of Pooh.