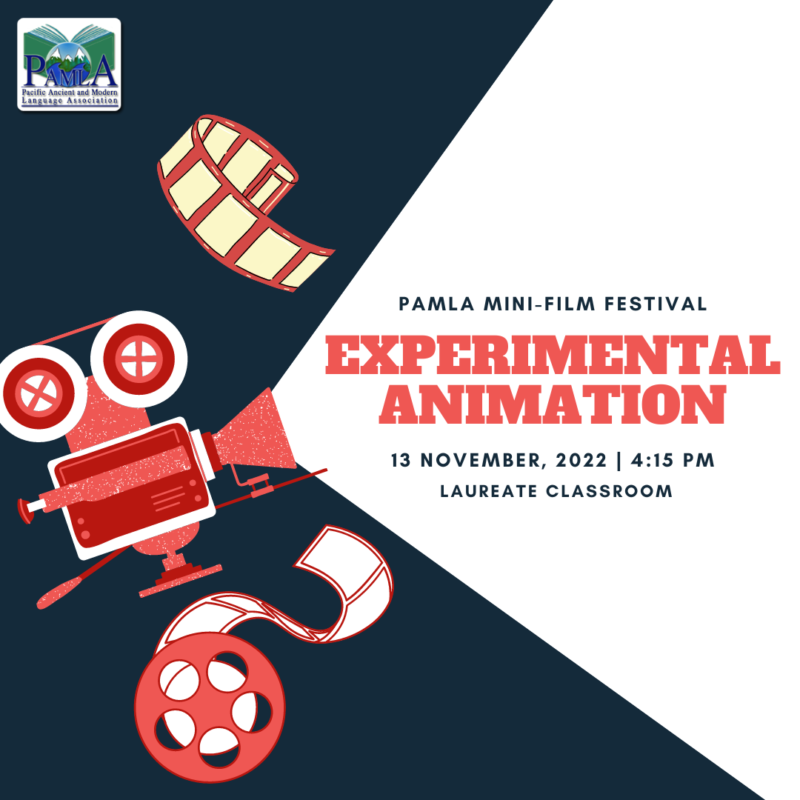 Join us for one of PAMLA's newest and most anticipated conference events: "PAMLA Mini-Film Festival: Experimental Animation." This special event will take place on Sunday, November 13, from 4:15 – 5:45 PM, in Laureate Classroom at the UCLA Luskin Conference Center! The PAMLA Mini-Film Festival is free and open to the public, so feel free to invite friends, family, and colleagues (RSVP to PAMLA Executive Director Craig Svonkin if possible: [email protected]).
Our Mini-Film Festival will include viewing and discussing a number of experimental animated films by Sammy Lamb, Kate Renshaw-Lewis, and Shengwei Zhou. Following the films' screenings there will be discussion with their animators.

Sammy Lamb Presents: "Donnie Rose" and "Bye & Love Drew Blood"
"Donnie Rose" retells the vibrant, short, and tragic life of runaway fourteen-year-old Donnie; the film explores the queer origins of the nascent Los Angeles punk scene, and how Donnie found family among the outcast teens living on the streets of Los Angeles in 1978. "Bye & Love Drew Blood" was made when I was 17. The techniques and sensibility I developed while making "Drew" laid the foundation for my current filmmaking practice. The predominant resource used for "Donnie Rose" was Drew's poetry archive. "Donnie Rose" and "Bye & Love Drew Blood" are sister films screened together here for the first time.
Sammy Lamb is a Los Angeles based, experimental, non-fiction filmmaker working in the mediums of animation and live action. Lamb's animations convey the emotional world, sensory memories, the ephemeral, and the unseen. She blends her textural multimedia animations with live action landscapes to ground the work in a documentary reality. She utilizes these mediums in tandem to create rich and multilayered portraits of her subjects.
Shengwei Zhou Presents: "Perfect City: The Mother"
In this film, Shengwei Zhou tells the story of a complex mother who loves but hates her own child at the same time. Zhou explores this conflict and the subtle emotions embedded in the mother's mind. In terms of the visual design, Zhou plays with the different textures between stop motion constructed by real world materials and 3D animation constructed by virtual elements, thus attempting to evoke the audience's synthetic feelings by contrasting these two media forms and also bringing narrative values to this contrast.
Born in 1991, Shengwei Zhou is an award-winning multi-media director and VR artist. He likes colliding real-world narratives and emotions with fantasy dreams by combining stop motion animation, 3D animation, and multi-media cinematography together. He focuses on the relationship between consciousness and body, dream experiences and the soft part of broken people. His films and animations have won over 100 festival awards and exhibition selections all over the world. Variety wrote about Shengwei Zhou in 2019 for his 95-minute animated feature SHe. Shengwei Zhou's filmography includes Perfect City: The Mother (2022), Let's Fall In Love (2021), Art Is Dead (2020), and the aforementioned SHe (2018).
Kate Renshaw-Lewis Presents: "Dinner Time" and "Belly Talkers"
Kate Renshaw-Lewis' film "Dinner Time" is a hand-drawn animation about the power dynamics within a hyper-nuclear family, focusing on the impact of gender roles on the child. "Belly Talkers" is about the experience of growing up with a chronic vocal tic disorder and its ties to memory and trauma. The film explores what it would be like to interact with the personification of the vocal tic, using recordings of the director's vocal tics from two years as dialogue.
Kate Renshaw-Lewis is an experimental animator with a focus on hand-drawn animation and how the tactility of the medium can strengthen the connection between the viewer and the film. Her pieces are surreal metaphoric explorations of the layers within our internal and external realities. She gained her BFA in experimental animation from CalArts in 2021. Her films have been screened worldwide and won awards from Big Muddy Film Festival and Sunday Shorts. She has worked with Adult Swim and The Sundance Institute.