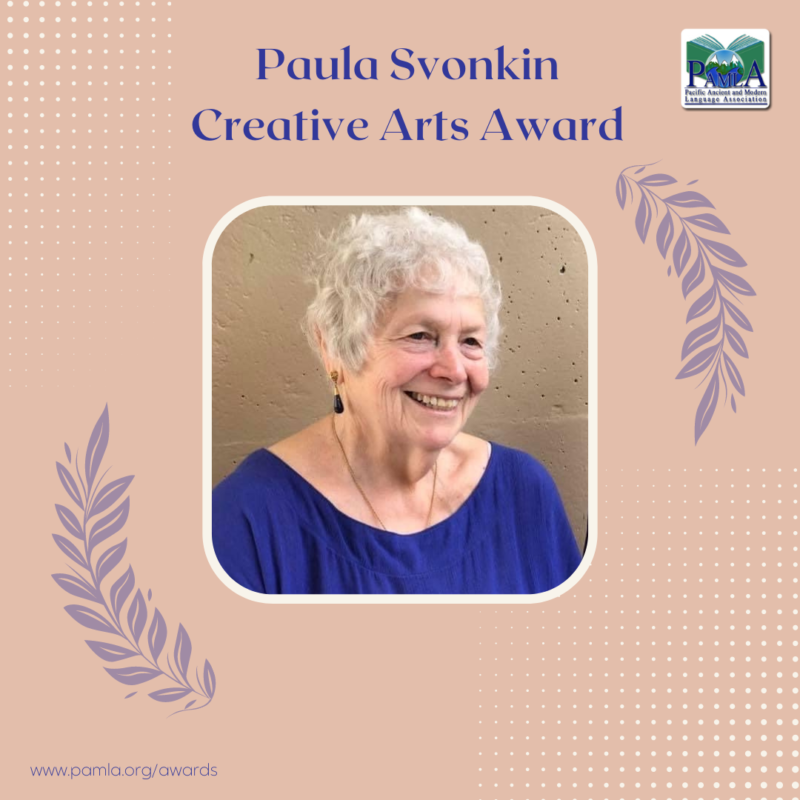 On behalf of PAMLA and the 2022 Paula Svonkin Creative Arts Award Committee, we are very pleased to announce that we have two winners for the inaugural scholarship award, The Paula Svonkin Creative Arts Award: Clara Chin (University of California, Santa Barbara) and David Lloyd (Le Moyne College)!
Clara Chin's short animation film "Scare Quotes" and David Lloyd's poem, "Sick" both received tremendous accolades from our committee members, and therefore, they had to choose both. Moreover, we'd like to highlight our Honorable Mention, Amy Cannon (University of Southern California), for her poem, "the white sapote." Our committee was so pleased with all three submissions, and are therefore going to feature all three works on our PAMLA Arts Matter webpage.

Congratulations to Clara, David, and Amy for their inspired submissions!
Clara Chin is PhD student in the English Department at UC Santa Barbara. Her research focuses on superficiality as an aesthetic that reflects and puts pressure on contemporary constructions of racialized femininity. In addition to explorations of superficiality in critical writing, Clara experiments with poetry, stop motion animation, and piano performance.
David Lloyd (Le Moyne College) is the author of ten books, including three poetry collections: Warriors (Salt Publishing), The Gospel According to Frank (New American Press), and The Everyday Apocalypse (Three Conditions Press). In 2000, he received the Poetry Society of America's Robert H. Winner Award, judged by W. D. Snodgrass. His fiction books include Boys: Stories and a Novella, Over the Line (a novel), and The Moving of the Water (stories). His poems and stories have appeared in numerous journals, including Crab Orchard Review, Denver Quarterly, and Virginia Quarterly Review. He directs the Creative Writing Program at Le Moyne College, Syracuse, NY.
Amy Cannon (University of Southern California) is an Associate Teaching Professor of Writing in the Thematic Option Honors Program at USC. She received her MFA from UC Irvine, where she was the recipient of the Gerard Creative Writing Endowment. She is the author of the chapbook "the interior desert" (Californios Press, 2019) and the mini-chapbook "to make a desert" (Platypus Press, 2016). Her work can be found in Bone Bouquet, LETTERS, LIT, and Rock & Sling, among other places. At USC, Cannon serves as Managing Editor of Palaver Arts Magazine.
We also would like to thank the Paula Svonkin Creative Arts Award Committee members, specifically Sonia Christensen, Juan Delgado, and Sandra Maresh Doe for reviewing the numerous submissions in a short bit of time. Cheers to you and all of our participants.

For questions concerning the Paula Svonkin Creative Arts Fund, please contact PAMLA Executive Director Craig Svonkin: [email protected] or 626-354-7526.