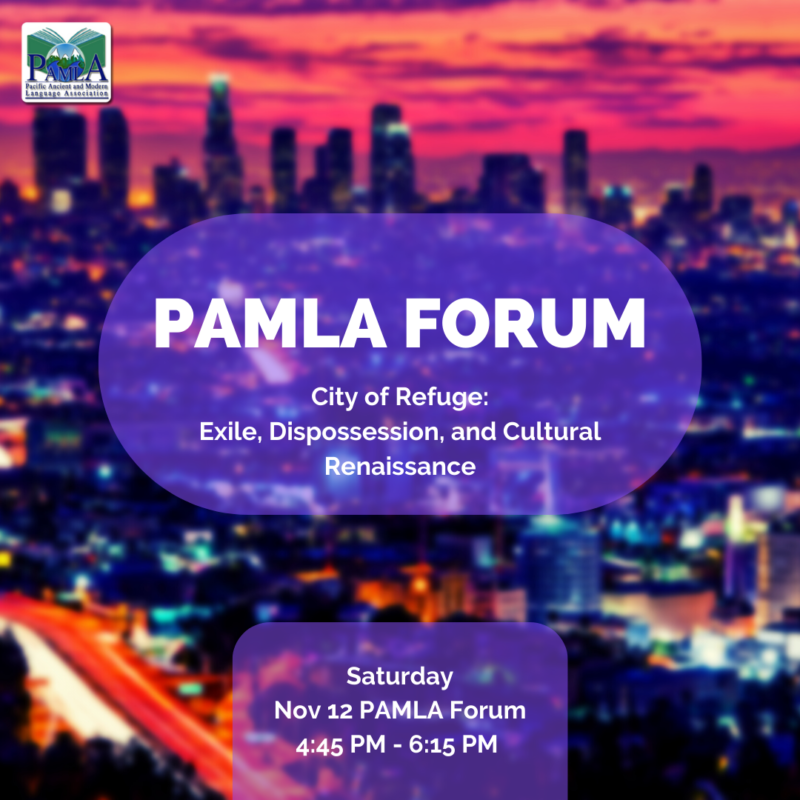 We are proud to present our PAMLA 2022 Forum, entitled "City of Refuge: Exile, Dispossession, and Cultural Renaissance," on Saturday, Nov 12 from 4:45- 6:15 PM in Centennial CD, featuring Dr. Alison Rose Jefferson (Independent Historian), Benno Herz (Thomas Mann House Los Angeles), and Jan Lin (Occidental College)!
Alison Rose Jefferson, "Commemorative Justice, Heritage Conservation, and the African American Experience in California's Santa Monica Bay"
Dr. Alison Rose Jefferson's presentation will explore California Coastal Zone enclaves and their significance as places within the African American experience. Dr. Jefferson will discuss these spaces, historically and geographically, as connected to California Dream mythology, the urban beach landscape, Southern California beach culture, American history and identity, and contemporary heritage conservation efforts. She will discuss how the Applied History programming, Belmar History + Art developed for Santa Monica, is empowering people with useful knowledge for civic engagement, justice, and equality, while facilitating individual and community pride.
Dr. Alison Rose Jefferson is a publicly engaged independent historian, heritage conservation consultant, and a third generation Californian. She has worked extensively across Los Angeles to elucidate and re-center the African American experience in local history, heritage conservation efforts, and the American identity. In 2020 she completed two Applied History projects: Santa Monica's Belmar History + Art and the Angels Walk LA Central Avenue Heritage Trail. In 2021, Dr. Jefferson was honored with the Santa Monica Conservancy's Cultural Resource Award for the Belmar History + Art project's commemoration of the early African American neighborhoods of Santa Monica and the contributions of their residents to the city. Dr. Jefferson and Michael Blum of Sea of Clouds were honored with the 2020 Cultural Landscape Award from the Santa Monica Conservancy for the accomplishment of getting the Bay Street Beach Historic District listed on the National Register of Historic Places. This is the first Santa Monica historic district to receive this national honor. Her recent book, Living the California Dream: African American Leisure Sites during the Jim Crow Era, was awarded the 2020 Miriam Matthews Ethnic History Award by the Los Angeles City Historical Society for its exceptional contributions to the greater understanding and awareness of regional history. The book explores the significance of beach spaces within the African American experience and in geography, California Dream mythology, the urban beach landscape, Southern California outdoor culture, American history and identity, and contemporary heritage conservation efforts. Her work has garnered attention in a variety of programming from various media outlets.
Benno Herz, "Thomas Mann's Los Angeles: Stories and Spaces of Exile"
After fleeing Nazi Germany, writer and Nobel Prize winner Thomas Mann found refuge for himself and his family in the Pacific Palisades, a quiet residential neighborhood in Los Angeles between Santa Monica and the Pacific Ocean. Mann was one of many European intellectuals who fled to Los Angeles, forming a community known as "Weimar on the Pacific." Benno Herz will discuss the Mann families' connections to Los Angeles and the network of intellectuals they found there, including writers such as Vicki Baum and Aldous Huxley and musicians such as Alma Mahler and Arnold Schoenberg.
Benno Herz is the Program Director and Head of Fellowship Programs at the Thomas Mann House Los Angeles, a residency center and space for transatlantic debate in the former exile home of Nobel-laureate Thomas Mann and his family. Prior to this, Herz worked in the online communication division at the Städel Museum Frankfurt, Germany, before joining the Thomas Mann House team as Project and Communications Manager in 2019. He studied Theater, Film and Media Studies at the Goethe University Frankfurt and completed his M.A. with a focus on new social media aesthetics and interface theory. Since 2009, he has been creatively engaged in several music and film projects as a writer and instrumentalist. He is co-editor and co-author of the publication Thomas Mann's Los Angeles: Stories from Exile 1940-1952 (Angel City Press, 2022). In 2021 and 2022 he taught a Digital Humanities class on European Exile at University of California, Los Angeles.
Jan Lin, "Gentrification and Displacement in Latinx L.A."
Jan Lin will examine dynamics of gentrification and displacement in Northeast L.A. Speculator-investors and corporate developers have subjected Latinx families to rent increases and mass evictions, uprooting social networks instrumental to economic survival. I draw attention to the rise of Latinx anti-gentrification movements to resist their displacement and cultural erasure.
Jan Lin has been teaching Sociology at Occidental College since 1998. He is the author of Taking Back the Boulevard: Art, Activism, and Gentrification in Los Angeles (NYU Press 2019), and co-editor of The Urban Sociology Reader (with Christopher Mele, 2nd edition 2013) and The Power of Urban Ethnic Places (2011). His writing is also featured online with KCET-Departures and Boom California. Professor Lin is working on a new book with Angie Chung, Immigrant Growth Machines: Urban Growth Politics in Koreatown and Monterey Park, forthcoming with the American Sociological Association Rose Series in Sociology published by the Russell Sage Foundation.