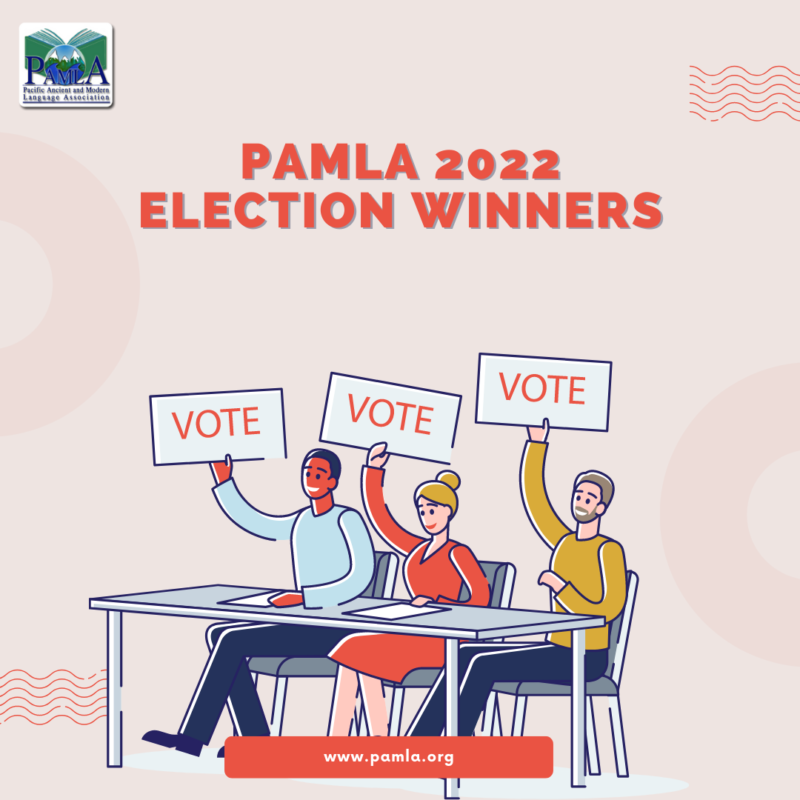 2022 PAMLA Election Results
On behalf of the PAMLA Executive Board, the 2022 Nomination Committee, and the Executive Director Craig Svonkin, PAMLA is proud to announce the winners of this year's election: Peter Schulman (Old Dominion University) for Second Vice President, as well as Dawn Dietrich (Western Washington University) and Satoko Kakihara (California State University, Fullerton) for our two Members-At-Large posts. Congratulations to all three of you!

We would also like to thank our other participants in the election for their steadfast support of the PAMLA community, namely Enrico Vettore (California State University, Long Beach), Ellen Finkelpearl (Scripps College), and Aili Zheng (Willamette University).
We also would like to offer our deepest gratitude to our outgoing officers, all of whom have been instrumental in the arduous task of planning and organizing of the PAMLA 2019, 2021, and 2022 conferences, namely Katherine Kinney (University of California, Riverside), Marta Albalá Pelegrín (California State Polytechnic University, Pomona), and Brigitte Prutti (University of Washington, Seattle). Our final thanks goes out to our Nomination Committee, steered by 2021 PAMLA President Martin Kevorkian (University of Texas, Austin). Thank you all so very much for all of your enthusiastic, diligent, and gracious dedication to PAMLA.