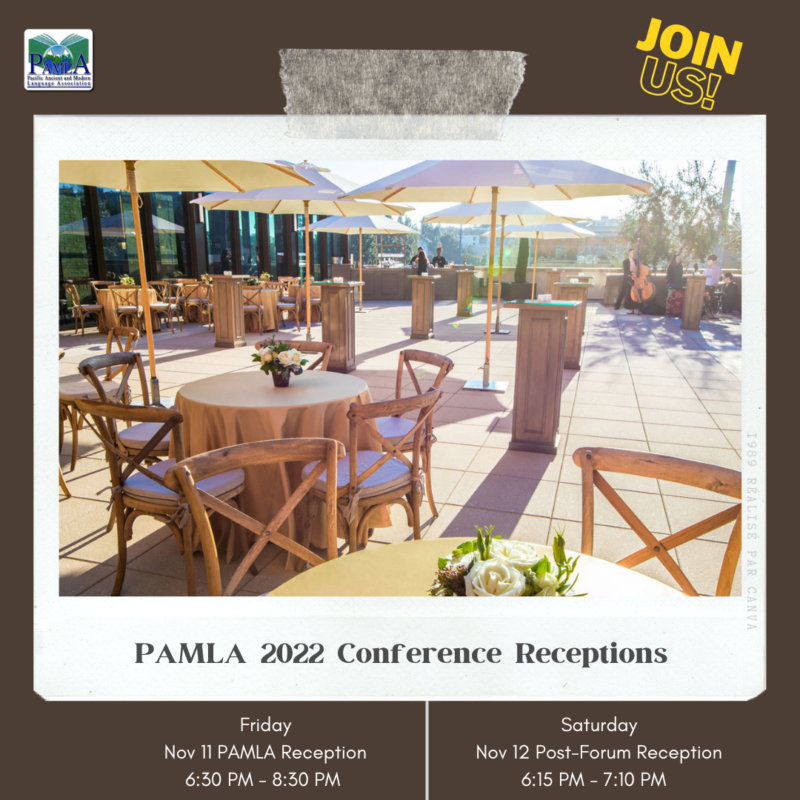 PAMLA is pleased to be hosting two fabulous receptions throughout the conference weekend at the UCLA Luskin Conference Center! Both receptions, like our snacks and breakfasts, are free to all PAMLA conference attendees, so please join us and bring a friend for a snack and a chat.

PAMLA Friday Night Reception (Centennial Terrace)

We will be hosting our main PAMLA Friday Night Reception, at the Luskin's spacious outdoor, third floor Centennial Terrace. Join us from 6:30 to 8:30 pm for delicious free hors d'oeuvres and a cash bar, plus great conversation, camaraderie, and jazz by the Uli Geissendoerfer Trio.

PAMLA Post-Forum Reception (Centennial Lobby)

And don't miss out on our second reception! Please join us for the PAMLA Forum on Saturday, November 12, from 4:45 to 6:15 pm, and then stay for a brief Post-Forum Reception with a complimentary glass of wine or beer, and light hors d'oeuvres.