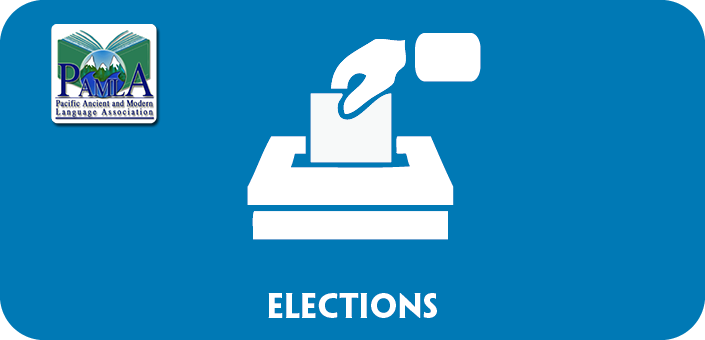 2021 PAMLA Election Nominee Statements
October 8, 2021
Dear PAMLA members,
The time has come for our annual PAMLA elections for new officers of our Executive Committee. If you are current with your PAMLA membership, within the next week you will receive an emailed ballot link to vote for new officers. Your PAMLA Executive Committee is the body that makes major decisions regarding PAMLA on a day-to-day basis. They help to plan the association's future so that we may continue to serve our members' needs. We require your assistance in choosing the best officers possible. Happily, the Nominating Committee, led by its chair Professor Stanley Orr, has come up with an impressive slate of potential officers. Please take a moment to read through the candidates' statements and then cast your vote. You can vote for one candidate for Second Vice President, two for Executive Committee Members-at-large, and one for Graduate Student Representative. The Second Vice President moves up automatically to First Vice President and then to President in consecutive years. The two Executive Committee Members-at-large nominees who receive the most votes will each serve three-year terms. And the Graduate Student Representative nominee who receives the most votes will serve a two-year-term.
I'd like to thank and acknowledge the fine work of the Nominating Committee (Chair Stanley Orr and members Katherine Kinney and Andrea Gogröf). And a great debt of gratitude goes out to all of our candidates for their willingness to serve our association should they be elected. We know we are all busy, so thank you, candidates, for your dedication to service! Now, let the voting commence.
Happy voting,
Craig Svonkin, PAMLA Executive Director
Candidates for Second Vice President (please vote for one nominee):
Juan Delgado is Professor Emeritus in the English Department at CSU San Bernardino, where he chaired the English and Communication Studies Departments and served as interim provost. His collections of poetry include Green Web (U of Georgia, 1994), selected by poet Dara Weir for the Contemporary Poetry Prize; El Campo (Capra Press, 1998), a collaboration with the Chicano painter Simon Silva; and A Rush of Hands (U of Arizona Press, 2003). His most recent book, Vital Signs (2013), was a collaboration with photographer Thomas McGovern and won the American Book Award given by the Before Columbus Foundation. Lately, he has presented his photopoetics and signage in collaborative exhibitions throughout Southern California, including installations at the Peppers Gallery in Redlands, the California Citrus State Historical Park in Riverside, and the CSU Northridge Art Galleries, where his work was featured alongside that of Armando Lerma of The Date Farmers.
Delgado is a board member for the Dorothy Ramon Learning Center, whose founder and president, Ernest H. Siva (Cahuilla/Serrano), is a Tribal leader with a distinguished record of service. For years, Delgado has been the co-director of Native Voices: Poetry Festival, which celebrates native writers and artists and provides literary and artistic workshops for children and teens from the Morongo Reservation. He is also a board member for the Garcia Center for the Arts, a community center in San Bernardino, which offers workshops in ceramics, painting, poetry, hip-hop and rap, dance, and glass blowing to community members of all ages.
Personal Statement: I've had the pleasure of being involved with PAMLA in several ways. I have attended multiple PAMLA conferences, presenting the Creative Artist Spotlight Address with Thomas McGovern at the 2014 conference in Riverside, CA, and participating in the "General Session: Creative Writers Spotlight" at the 2018 conference at Western Washington University. At the 2019 conference in San Diego, I was excited to host a workshop on "The Art of Teaching Creative Writing in Our Communities." I also interviewed Gordon Lee Johnson (author of Rez Dogs Eat Beans and Bird Songs Don't Lie: Writings from the Rez) and presented "The Murals that Burst Beyond their Streets."
I commend PAMLA for being such a welcoming, thoughtful, and progressive organization. I have found PAMLA's conferences to be exciting, giving us a place to have meaningful interactions and to be introduced to the exciting work of emerging and established scholars. In addition, I've been an active member of the PAMLA Executive Committee, attending meetings and serving on committees such as the "Outstanding Article Award for 2020" Committee. David John Boyd, PAMLA's Assistant Director, and I have created PAMLA Arts Matter, a creative website growing out of our upcoming session, "Among the Unrest," and "dedicated to promoting the study of textual artifacts with a comparative, inclusive, and inter-medial approach, highlighting the interwoven relations between aesthetics theories, practices, geographies, bodies, histories, and cultures": https://www.pamlaartsmatter.com. Besides these activities, I have also contributed to PAMLA's journal, Pacific Coast Philology, with the essay "Nuestra América Blurs" (fall 2018), and a formal interview conducted with a Native writer to be published in an upcoming special issue of the journal.
I have deeply enjoyed working with PAMLA's dynamic leadership during these challenging times. If elected Second Vice President, I will continue to work hard with others in supporting PAMLA's commitment to diversity, accessibility, creativity, and scholarship.
Richard Hishmeh, Ph.D., is Professor of English and Humanities at Palomar College, where he has taught since 2006. He is currently the Faculty Director of English for Palomar's Language Learning Center. His doctorate is from The University of California, Riverside, where he studied under and was mentored by past PAMLA Presidents, Steven Gould Axelrod, Katherine Kinney, and John Ganim. His essay "Marketing Genius: The Friendship of Allen Ginsberg and Bob Dylan" was awarded Honorable Mention for Best Article published in The Journal of American Culture in 2006 by the American Culture Association. Other publications include "Chronicles: Volume One" (Modern Language Studies, 2005) about Bob Dylan's postmodern autobiography, and "Hemingway's Byron: Romantic Posturing in the Age of Modernism" (The Hemingway Review, 2010). Hishmeh has also contributed chapters to numerous edited volumes, including "Strategic Genius, Disidentification, and the Burden of The Prophet in Arab-American Poetry" for Arab Voices in Diaspora: Critical Perspectives on Anglophone Arab Literature (2009). In 2016, he won Palomar College's Faculty Research Award, recognizing these, and other, exemplary contributions to his discipline. His latest publication, entitled "Claiming Their Place: Contemporary Arab American Poetry and Poetics," is forthcoming in the Bloomsbury Handbook of Contemporary American Poetry (2022). Hishmeh has served as a reader of manuscripts for PAMLA's journal, Pacific Coast Philology, as well as for the Rocky Mountain Review. In addition to his critical work, Hishmeh has authored an unpublished collection of poems focusing on Southern California's Inland region, entitled About Forty Miles Inland.
Personal Statement: I would like to thank the nominating committee for the opportunity to run in this election and extend my service to PAMLA. I have been an active member of PAMLA for nearly 20 years, giving my first paper as a graduate student in 2004. Since then, I have been Presiding Officer, panel Chair, and/or presenter at nearly every annual conference. I have presided over standing sessions such as Poetry and Poetics, Rhetorical Approaches to Literature, and American Literature to 1865; likewise, I have organized and chaired various special sessions, many focused on the two-year college and pedagogy. From 2014-2017, I served on PAMLA's Executive Committee, and I have also served on the PAMLA conference site committees for San Diego and Riverside conferences. For PAMLA's 2013 San Diego conference, I was instrumental in making Palomar College the first two-year college to co-sponsor the association's annual conference. PAMLA has played a crucial role in my professional development. If elected, I would work to extend such opportunities to the association's ever-changing membership. I would continue my efforts to broaden the association's reach to two-year institutions, such as my own, and to guarantee opportunities for other under-represented groups to find a voice within the association. I have been especially impressed with the association's inclusion of non-traditional session formats, including many in the Creative Arts, and I would continue to build on this distinguishing attribute of our prestigious association.
Candidates for Executive Committee's Members-at-Large (please vote for up to two nominees):
Jerry Rafiki Jenkins has a BA in Sociology and PhD in Literature from the University of California, San Diego, which he received in 2002. Rafiki is Professor of English at Palomar College in San Marcos, California, where he has taught courses on composition, critical thinking, Multicultural Studies, and African American literature and history. Rafiki is also a lecturer at San Diego State University, where he has taught courses on African American vampire fiction and representations of blackness in literature and culture. Rafiki's research focuses on black speculative fiction and film, and his peer-reviewed articles appear in Screening Noir, African American Review, Journal of Children's Literature, Science Fiction Studies (2022), and PAMLA's Pacific Coast Philology. Rafiki is also the author of The Paradox of Blackness in African American Vampire Fiction (Ohio State UP, 2019), and he has co-edited, with Martin Japtok, Human Contradictions in Octavia E. Butler's Work (Palgrave Macmillan, 2020) and Authentic Blackness/Real Blackness: Essays on the Meaning of Blackness in Literature and Culture (Peter Lang, 2011). Rafiki is currently completing a book-length manuscript on monstrosity in African American horror fiction.
Personal Statement: I attended my first PAMLA annual conference in 2009, when it was held in San Francisco. Since then, I have been a presenter and session chair on multiple occasions, and my participation at these conferences have been invaluable to my scholarship. Indeed, Human Contradictions in Octavia E. Butler's Work was inspired by an Octavia Butler panel at PAMLA, and drafts of a few of my articles and chapters were presented at PAMLA conferences. What I appreciate most about PAMLA conferences is that I can talk with folks who are theoretically sophisticated and historically grounded but are able to articulate their ideas to others outside their fields of study. For me, this is what makes PAMLA—the conference and its journal—a welcoming intellectual space, a space where knowledge, not jargon, is fostered and forwarded, a space where such knowledge is used to combat the challenges that face the Humanities and education at large. If I am elected to the Executive Committee, I will work to ensure that PAMLA continues to be a space for a diverse range of scholars, including advanced scholars, young graduate students, foreign scholars, scholars from two-year colleges, independent scholars, creative writers, and scholars from disciplines other than the Humanities who are interested in studying the literary arts.
Kimberly Jew holds a joint appointment in Theatre & Ethnic Studies, and she serves as Program Head for "Theatre Teaching" at the University of Utah. She teaches a wide range of topics ranging from Asian American and ethnic American studies, to theatre theory, dramatic literature, educational theatre, and script analysis. Her expertise lies in 20th century theatre and performance. She has directed numerous university productions and has composed and edited a collaborative performance project based on local letters to the editor. Dr. Jew has written on a variety of topics, exploring the intersections of feminism, postcolonialism, theatrical experimentation, and ethnic American identity formations. Her essays can be found in the journals of Pacific Coast Philology (PAMLA), Pacific Asia Inquiry, MELUS, and Theatre Journal (online), and in the edited collections Literary Gestures (Temple University) and Seeking Home (University of Tennessee Press). She is a currently co-editor for Frontiers, a Journal of Women Studies. She edited the journal's special issues titled "Staging Feminist Futures" (February 2021) and "Black Performance" (May 2021). Dr. Jew received her doctorate from New York University, master's from Georgetown University, and bachelor's from UC Berkeley.
Personal Statement: PAMLA has become a special academic home for myself. Its emphasis on rich and evocative exchanges amongst a variety of humanities disciplines has broadened my interests in the deep connections that Theatre Studies holds with text, theory, and teaching. I have been buoyed by the collegial culture of our conferences and intellectually supported by the editorial acumen of the journal editors and reviewers. I am very pleased to have published an essay with Pacific Coast Philology and to have worked as an original and continuing Presiding Officer for the "Drama and Society" panels. Should I be elected to the Executive Committee, I would like to focus on the further integration of arts, performances, and non-traditional panel structures into the conference offerings. As a joint hire in Theatre and Ethnic Studies at the University of Utah, I would also like to support PAMLA's diversity and inclusion initiatives.
James J. Lu received his PhD in English from Duke University in 1992. His publications include articles in the journals of MELUS, Biography, and Tamkang Review. He translated American author Edith Wharton's novel The Age of Innocence from English to Chinese, published in 1986. Recently, he co-authored a book titled The Epistemological Construction of Critical Theory and Paradigms: American Horizon and Chinese Experience, to be published by Zhejiang University Press in 2022. Also forthcoming is an article titled "Two Tales of a City: An Ethnic and Cultural Study," to be published in the journal Academic Prospect, volume 15 (ISSN #: 1936-1246), fall 2021, pp. 2-14.
James began his teaching career in 1989 as a graduate instructor at Duke University's Writing Program where he taught for three years, followed by two years of teaching in the Department of Comparative Literature at Hamilton College in New York (1993-95), prior to his 26 years of teaching at California Baptist University (1995-present). At CBU, his administrative experiences include Interim Dean, College of Arts and Sciences (2009-2011); Associate Dean, College of Arts and Sciences (2012-2021); and Chair, Department of Modern Languages and Literature (2001-Present).
Personal Statement: The first PAMLA conference I attended as a presenter goes back to 2008. Since then, I have been in love with PAMLA as a professional organization. I have continually presented papers at nearly every one of PAMLA's annual conferences and frequently served as presiding officer—for instance, over a number of panels including "Comparative Literature," 2019; "Ecocriticism" (co-sponsored by Association for the Study of Literature & Environment), 2018; "Philosophy, Ethics, and the Human," 2016; "Renaissance and Democracy," 2015; and "College Composition and Rhetoric I," 2012. In addition, I have arranged for sponsorship by my university in support of PAMLA hosting its annual conferences, as well as regularly making personal donations to the PAMLA Scholarship and General Funds. Should I receive the honor of being elected to the Executive Committee, I would like to work with my fellow Executive Committee members on further expanding PAMLA's outreach to scholars of languages other than English working in the US, and to scholars of English-language and literatures teaching outside of the US.
Elisabeth-Christine Muelsch is a Professor of French at Angelo State University, Texas, where she also supports the German program and serves as the chair of the Film Studies Committee. After completing her PhD in Romance Languages and Literatures at the University of Freiburg (Germany), she worked as an editorial assistant at Stanford University Press, which provided a good training ground for her current work on the editorial board of Women in French Studies and Excavatio. As a 19th-century French specialist interested in gender, theatre, and film, she is often solicited as an outside reviewer for academic presses. She co-edited Écrire les hommes-Personnages masculins et masculinité dans l'œuvre des écrivaines de la Belle Époque (2012) and contributed to Colette Trout and Frédérique Chevillot's (editors) Rebelles, vilaines et criminelles chez les écrivaines d'expression française ou la déviance au féminin (2013). More recently, her articles and biographical entries have appeared in 1895 Revue d'histoire du cinéma, Les Cahiers Octave Mirbeau, and Abecassis, Michael and Marcelline Block (eds.) French Cinema in Close-up: La Vie d'un acteur pour moi (2015). As a member of PAMLA she has participated in PAMLA conferences both as a chair and a presenter.
Personal Statement: I first attended a PAMLA conference in 2002 as a chair and presenter of a Women in French session. I was and have remained impressed by the warm and welcoming atmosphere that prevails at PAMLA conferences. PAMLA conferences offer a unique opportunity for true intellectual exchange across academic ranks and disciplines, which is particularly intriguing for those of us who work in more than one discipline or do interdisciplinary work. My scholarship and teaching have greatly benefitted from this cross-disciplinary exchange. My conference presentation on the Kaufman brothers at Chaminade University (PAMLA 2017) led to an article publication in 1895 Revue d'histoire du cinéma and to the design of a new French course: French Cinema in the 1920s. I feel strongly about engaging students in my research projects, encouraging them to pursue their own, and sharing their insights at conferences. It would be an honor to serve on the Executive Committee and to support the PAMLA in its efforts to build a strong membership among faculty and graduate students. I am intrigued by the PAMLA's Arts and Events initiatives that illustrate the organization's strong commitment  to promoting the arts and the humanities at large, fostering an interdisciplinary dialogue, and creating a broader job market for all.
Graduate Student Representative (please vote for one):
Russell McDermott is a PhD candidate in the Cinema and Media Studies department at the University of Southern California, having earned his MA at New York University in Cinema and Media Studies. He worked for PAMLA as a graduate assistant from 2011-2016 and then as PAMLA's Communications Officer from 2016-2020. He has presented at or chaired sessions at PAMLA conferences since 2011, presiding over or chairing nine sessions and delivering six papers at PAMLA conferences. Russell has also represented PAMLA at a roundtable on the future of regional MLAs at the 2020 Modern Language Association. His research focuses on embodied simulation, Theory of Mind, and navigation and interaction in Walking Simulator video games and VR works. He is particularly interested in engaging with contemporary Neuroaesthetics in an effort to renegotiate boundary case texts to critically reexamine and expand medium ontologies, essentialisms, and formalisms.
Personal Statement: PAMLA has been a wonderful, supportive community for me as a young scholar. I have worked with PAMLA for ten years now as a presenter, session chair, presiding officer, and Communications Officer. PAMLA has given me, and so many other graduate students, a kind and supportive space to work through ideas in my research and to connect with scholars from around the world. Should I be elected, I am particularly interested in supporting the vital and thriving community of graduate students who are such an important part of PAMLA. I will reach out to our graduate community to program events that cater to them and their needs, and to bring their voices to the fore. I also hope to get graduate students involved in PAMLA's new Auxiliary Council, and to develop new workshops, creative conversations, and roundtables on behalf of graduate students and other scholars. I plan to use these spaces to work with my peers to workshop ideas, support research, and create frameworks for the changing nature of academic work.
Pamela Trayser is a current graduate student at Arizona State University in History. She received a master's degree in English Literature from ASU in 2020 and has been a member of PAMLA since 2017. Her research focuses on both British literature and history of the 19th century to the end of the Victorian Era, particularly that of orphans, orphanages, and the education of women. She has presented a panel at Denver Pop Culture Con on "Lost Theories and Mythology" and has been published in magazines like Metrosphere, Missouri Life, and Direct Art. She also enjoys researching areas such as postcolonialism in India, World War II on a global scale, and the Civil Rights Movement in America.
Personal Statement: I have been fortunate enough to be a member of PAMLA since 2017 and attend two conferences thus far. The community spirit and the level of sharing in the pursuit of academic knowledge is an experience unlike any other I have had. At the Hawaii conference, I was one of a few undergraduate presenters, sharing my knowledge on the myths and literary allusions within the television show Lost. As a then undergraduate, I was able to experience each day with a mindset of where I wanted to go with my academic career and received wonderful advice and encouragement from those at the graduate or post-graduate level. I believe firmly in PAMLA and its current mission to find more ways to appeal to a larger academic audience through outreach with graduate students. My background in theater allows me the confidence in public speaking, while running my own shop that is in the top 1% of the global market in handmade goods illustrates my determination and ability to adapt. I feel my positive attitude and inventive mind is a perfect fit for helping other graduate students navigate their academic pursuits, as well as bringing graduate students together in an environment that is both welcoming and encouraging.