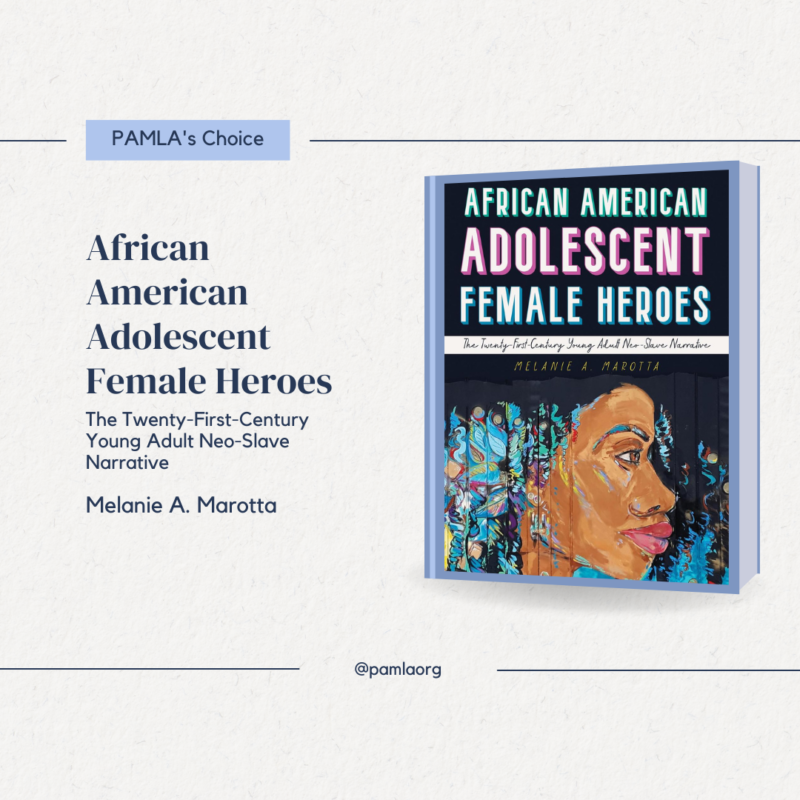 PAMLA is pleased to announce the release of Melanie A. Marotta's new book, African American Adolescent Female Heroes: The Twenty-First-Century Young Adult Neo-Slave Narrative (University of Mississippi Press, 2023). Not only has Melanie been a long-serving and committed PAMLA member and presiding officer for years now, but she is also a lecturer in the Department of English and Language Arts at Morgan State University. Marotta's research focuses on American literature, particularly African American literature, young adult literature, the American West, science fiction, and ecocriticism.

In the wake of the second wave of the Black Lives Matter movement, inequalities and disparities were brought to light across the publishing industry. The need for more diverse, representative young adult literature gained new traction, resulting in an influx of young adult speculative fiction featuring African American young women. While the #BlackGirlMagic movement inspired a wave of positive African American female heroes in young adult fiction, it is still important to acknowledge the history and legacy of enslavement in America and their impact on literature. Many of the depictions of young Black women in contemporary speculative fiction still rely on stereotypical representations rooted in American enslavement.
African American Adolescent Female Heroes: The Twenty-First-Century Young Adult Neo-Slave Narrative investigates the application of the neo-slave narrative structure to the twenty-first-century young adult text. This monograph examines texts featuring a female, adolescent protagonist of color, including Orleans, Tankborn, The Book of Phoenix, Binti, and The Black God's Drums, as well as series like the Devil's Wake series, Octavia E. Butler's Parable series, and the Dread Nation series. Taken together, these chapters seek to analyze whether the roles for adolescent female characters of color are changing or whether they remain re-creations of traditional slave narrative roles. Further, the chapters explore if trauma, healing, and activism are enacted in this genre.
Congratulations, Melanie! We are so pleased for you, and will continue to support you and your work in the future!