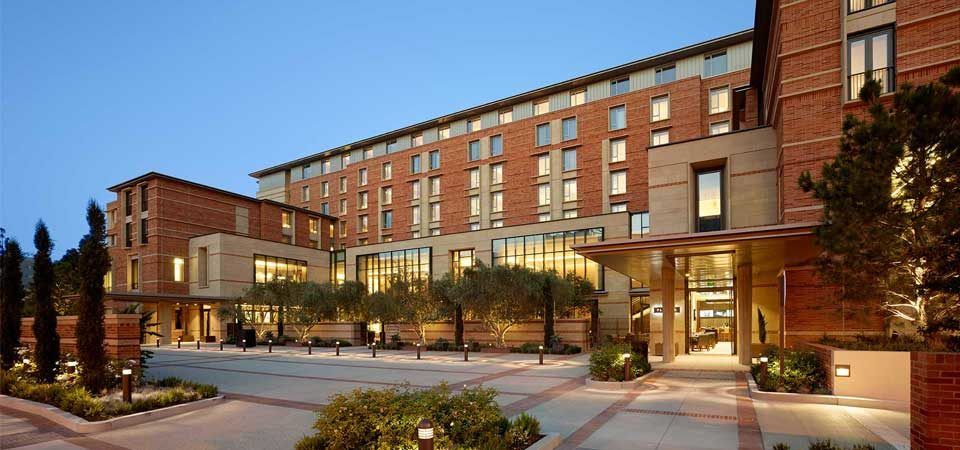 UCLA's Luskin Hotel and Conference Center
The 2022 PAMLA Conference is being held at the lovely 4-star UCLA Luskin Hotel and Conference Center, on the beautiful UCLA campus, in the heart of Los Angeles. The Luskin has a lovely restaurant, bar, fitness center, a shuttle, room service, and is steps away from UCLA's Student Union (with many restaurants and services). By staying at the Luskin at the special PAMLA rate ($169 plus tax per night—very inexpensive for the area, and about half of what a four-star hotel, or even a three-star, costs in the area), you will be walking distance from Westwood, one of Los Angeles's charming urban neighborhoods (with many restaurants, movie theaters, shops, and the UCLA Hammer Art Museum). And driving distance, or a convenient Lyft or Uber or taxi ride to such Los Angeles landmarks as the Getty Art Museum, the Sunset Strip, Santa Monica or Venice Beach, Universal Studios, and downtown LA (with its many art museums and restaurants). The Luskin hotel rooms come equipped with air-conditioning, flat-screen TVs, coffee makers, safes, and ironing boards.
Some nights at the Luskin are currently sold out. But people may cancel their reservations, so keep checking this link, or call the hotel, to make your reservation at the UCLA Luskin Hotel and Conference Center at the special PAMLA rate ($169 plus tax):

https://bookings.travelclick.com/99861?groupID=3334229#/guestsandrooms
Should you wish to reserve your room for additional nights outside of our PAMLA block (before Thursday night, November 10 or after Tuesday night, November 15), you will need to call the Luskin, and ask for a room reservation at the PAMLA rate: 855-522-8252. Do be sure to identify yourself as part of PAMLA, so as to receive our PAMLA rate.
Some nights at the Luskin at the PAMLA rate are currently sold out. If you cannot get a room, please keep checking back (when people cancel, we will get the rooms back) and also email Craig Svonkin: 626-354-7526 or director@pamla.org.
Craig may be able to help you work out the problem, and he is looking for more guest rooms nearby.
We will soon be adding rooms at a nearby hotel that is a brief walk or drive from the Luskin. So if you cannot get a reservation at the Luskin, please let Craig know, and he will inform you as soon as we have a room block available nearby.
For other reservation inquiries, you can also call the Luskin at 855-522-8252 or email them at lcc-reservations@ha.ucla.edu.
Alternative ground transportation to/from LAX?
In addition to traditional car services, taxis, and ride-share options, you may consider these alternatives:
The most economical way to get to/from LAX is with Culver CityBus Line 6 or, when applicable, the faster Line 6 'Rapid.' This works best if you're going to the airport with no more than a small, lightweight carry-on bag or suitcase as there is no storage for luggage on board.

Shuttle2LAX

partners with major transportation companies to sell seats on shared ride shuttles that would otherwise be empty, saving passengers up to 80 percent off typical taxi fare. You will be on a shuttle with up to 9 passengers and make between one and four stops on the way to or from the airport.
The Luskin has a Frequently Asked Questions Page: https://luskinconferencecenter.ucla.edu/about/faq/
We recommend visiting these great cultural sites close to the Luskin (there are many more we will be highlighting soon in the future):
Check-in: 4 pm / Check-out: Noon
Cancellation Policy: You must cancel your reservation 48 hours ahead of time, so as to avoid being charged.
There are no refrigerators in the Luskin hotel rooms; should you require one, please request one well ahead of time.
Parking: Day parking is available at UCLA's Parking Structure 8, immediately adjacent to the Luskin, for $14 per day. Overnight parking is $28.
Parking in the Luskin's underground parking garage is limited; $32 per day.
Luskin/PAMLA Vaccination Policy: You must be fully vaccinated (at least two weeks before the conference) and provide proof of vaccination upon check-in; or you must be able to show a negative COVID-19 test result (taken within 72 hours of the conference). Those who cannot do one or the other of these will not be able to attend the conference.
UCLA Luskin Hotel and Conference Center

425 Westwood Plaza, Los Angeles, CA 90095
(855) 522-8252
d