One-Hundred-Sixth Annual Conference
November 7-8, 2008
Pomona College
Claremont, California
Sponsored by Pomona College, Scripps College, and Bryn Mawr College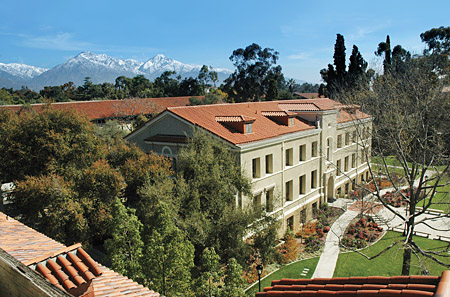 Pomona College
Established in 1887, Pomona College is widely regarded as one of the premier liberal arts colleges in America. The college is located in Claremont, California, a charming town 35 miles east of Los Angeles. Pomona is the founding member of The Claremont Colleges, a consortium of five undergraduate and two graduate institutions, all autonomous and all but one located on adjacent campuses, with a combined enrollment of about 7,000 students. In addition to Pomona College, the cluster includes Claremont Graduate University (established 1925), Scripps College (1926), Claremont McKenna College (1946), Harvey Mudd College (1955) and Pitzer College (1963). The seventh member of the consortium, the Keck Graduate Institute of Applied Life Sciences (1997), is located nearby. The seven institutions jointly support central facilities, including libraries; share a common academic calendar; open their courses to one another's students; and cooperate in sponsoring special programs. This allows students to enjoy the intimate atmosphere of a small, residential college while still having access to the resources of a larger university.
Visit the pages below for additional information about the 2008 conference:
Schedule
Registration
Accommodations and Transportation – Please book your hotel as early as possible so that we can ensure adequate room allocations.
Google Map of All Conference Locations and Hotels
CFP Special Topic: Violence and Representation
CFP General and Special Sessions
Proposals for Special Sessions
For complete conference planning schedule and guidelines, see the February 2008 Newsletter (PDF).